BC District Associates – David and Karen Sax
Our TRC experience on September 30th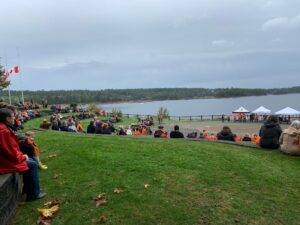 Karen and I (David Sax) were expecting to gather with our faith community (All Saints Parish at 9 a.m. Mass at St. Mary's Church) in Ladysmith on September 30, 2021, but were notified on September 29 that the local Stz'uminus First Nation and Town of Ladysmith were hosting a gathering.
We were quite excited that some joint initiative was happening. We donned our orange shirts and after Mass, made our way with fellow parishioners to the gathering place down by Transfer Beach on Ladysmith Harbour, a traditional gathering place for First Nations peoples.
We arrived a little late to find several hundred people arrayed in various orange clothing around the amphitheatre. Roxanne Harris, newly elected chief of the Stz'uminus First Nation, plus the mayor of Ladysmith, Aaron Stone, welcomed all. With sincere emotion Roxanne spoke about how important it was to have so many First Nation and settler people gather to give honour to the pain, suffering, endurance and healing of their people on this first National Day of Truth and Reconciliation.
Several elders and council members mentioned how important it was for their personal healing to see people care about what they experienced in the past and experience now in their lives. To come and listen to their stories, their songs, pride in their children and youth and the ritual dances seemed to offer a sense of connection. There was strength and beauty in the ritual dances the Young Wolves Dance Group shared with all. To show appreciation for these youth some parish members passed out snacks after the celebration.
One of the elders, George Harris Sr., a noted singer, knowledge keeper and storyteller said it will be a new step forward when we can smile and acknowledge one another as we meet on the streets of Ladysmith with honour and friendship. George spoke little about the memories of the past, but mostly about what hope he sees now in the youth dancing, singing, speaking their language and sharing their culture.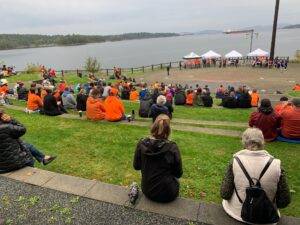 After other speeches by the city and band council members, George rose again to speak about how he has been moved by our attentiveness, smiles and clapping. He also surprised many by saying he held no grudge against the Catholic Church about the residential and day schools. The image he used was "a red line" we all crossed long ago and now we need to let it go and move forward. It was truly a deeply moving expression of hope that filled Dave to the brim.
The expressions of gratitude spoken by elders and Roxanne Harris towards all who were there, plus the sense of grace-filled-ness shown by the Stz'uminus First Nation in song, word and dance, moved Karen to humbleness, as the sun broke through the rain clouds and shimmered on the harbour waters and presenters below our vantage point. The culmination was in the closing song (composed by George and first presented during Expo '86) performed by the Young Wolves dancers and drummers singing once again the gratitude song. We are truly thankful to be part of the larger community in remembrance on September 30.
By David and Karen Sax