Lac Ste Anne Mission
September 30th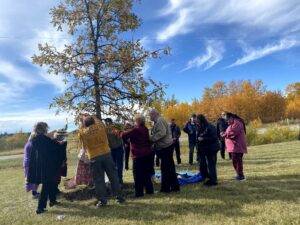 Indigenous and non Indigenous peoples gathered at Lac Ste Anne Mission to honor Truth and Reconciliation day by planting  an oak tree – symbol of strength and perseverance.
On Sep. 26, we celebrated Mass and prayed for healing, remembering all the Indigenous people who have been affected by colonialism and residential schools. At the end of the Mass, Chief Arthur Rain of Paul First Nation spoke about the effects of colonialism on Indigenous people and how many are still affected by it today.
Chief Tony Alexis of  Nakota Sioux Nation spoke about separation of families and the loss of parenting skills which are still seen today, "The painful reality of the past is seen in almost every community" he said.
After Mass, all walked to where the tree was placed. Former Chief Rod Alexis, Alexis, Nakota Sioux Nation, spoke about forgiveness and how "Lord's prayer" reminds us as we pray it. "Healing is impossible without forgiveness" he said.
Spiritual leader, Charly Letander smudged the tree and tabaco was offered, we prayed in four directions asking Waka – God for a better future for all people.
During the ceremony, we remembered all the children who died in residential schools and prayed for all parents. Then everyone tied orange ribbons on the tree.
We hope that this tree will be a live symbol of healing and reconciliation. And as this tree will grow every year, becoming bigger and stronger, the same healing will grow in us.
The celebration ended with a small feast sharing food and enjoying beautiful day.
By Leszek Kwiatkowski, OMI