Baptism of the Lord
Fr Richard Rohr OFM says that throughout the Bible, God is simply looking for images to communicate God's love for people, and how they can be co-creators (empowered).  Our Sacraments, however, are more than just images, for they draw us close enough to touch God in some mysterious way (if we so desire it).  Today I wish to use the image of getting a driver's licence to try and bring out the power and importance of the Sacrament of Baptism.
The image came to me unexpectedly, but I found it useful – although it's not a perfect image.  Rather than use the somewhat commanding (boring?) language many people use to hit us over the head with (eg. Baptism is a responsibility so don't be lazy!); I believe the driver's licence image gives us much more than just responsibility: it speaks of opportunity.
I chose the alternative first reading because it speaks of invitation and being welcomed to something great, something enjoyable and nourishing.  Just as a driver's licence opens up many new opportunities for excitement & enjoyment: giving a sense of achievement and power.
As every teenager knows, a driver's licence (and a generous dad), gives the promise of freedom and the opportunity to escape from home.  It then develops into greater freedom and more options for life: we can go further than walking, and we can help more people with a car.
As a little boy, I frequently sat in the front seat of the family car in-between mum and dad.  So, on many of our long journeys (we lived on a farm, far from town), I would observe how dad or mum operated the gears, the clutch and accelerator.  By the age of 8 or 9, I automatically knew when the indicators should be on, and how the gear shift and clutch worked together.  My parents then had to endure my corrections to them about speed and indicators!
By age 11, I'd started driving the pickup on our farm paddocks (without an official licence).  Being short at that age, it was amusing for people to watch me slide under the steering wheel to push the clutch, and drag myself up again by the steering wheel to see as we started moving.
However, it demonstrates the power of Baptism in children, if properly communicated to them by family and community, to do small things that reflect the love of God in our world.  Don't we all smile with pride when a child is selfless & caring for other children or an elder?
My take-offs were not always smooth in the beginning, but quickly improved – especially as I grew a little taller!  As I learned the basics of driving they became automatic and normal;
So as a child learns the basics of being a Christian (think of others, share what we have, etc.), the Christian life also becomes automatic and "normal" as the child grows up.
Just as a driver's licence connects us to more experiences in life, and embrace opportunities, so Baptism into the Christian Faith – properly nurtured by parents, etc. – opens up more rewarding/ enjoyable ways for life: healthy relationships & emotional intelligence.
Emotional intelligence being that ability to empathise and understand how another person is feeling, so that our approach or response to them will be positive rather than negative.  As a by-the-by, high emotional intelligence is usually present in all very successful people.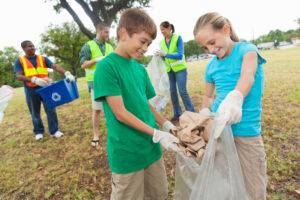 Here I would like to speak a little on the understanding of why there are good people who have not been Baptised.  Catholic teaching says that Baptism comes in three ways: Baptism by Water, Baptism by Blood (martyrs), and Baptism by Desire (developed at Vatican II, 1965).
As a boy I was inspired by my father driving; so, in the same way, neighbours are hopefully inspired by the way we Christians live out our Baptism commitments, and also imitate Christ.
Having a driver's licence empowers us to move greater distances to obtain goods, get jobs, or reach safety or medical care.  Baptism leads us into the Christian Faith and empowers us, likewise, to persevere longer in difficult times and reach out for lasting "care".
Of course if, after getting a licence, we don't practice driving for a long time, we will limit our opportunities to move around, and make a mess if we drive again without instruction.
Theologically, by Baptism, the Divinity of Jesus purified the waters of the Jordan and made them holy for all those Baptised, and established the Sacrament of Baptism.  Just as it marked the beginning of Jesus' Ministry, so Baptism marks the start of our Faith journey.
Our Faith journey should not be viewed as a burden or set of things we have to do; but, rather, as a set of tasks that build a family and community life where we feel part of something greater than ourselves: a place of safety, happiness, opportunity and love.
As a boy learning to drive, I often had praise as I progressed, which empowered me to keep trying.  The "fully human" Jesus also needed the blessing of the Father, so that He could be properly empowered to fulfil the mission of the Messiah.  Today, the father also speaks to each one of you:  'You are my Son[/Daughter], the Beloved; my favour rests on you.'
By Gerard Conlan, OMI