Beyond the Walls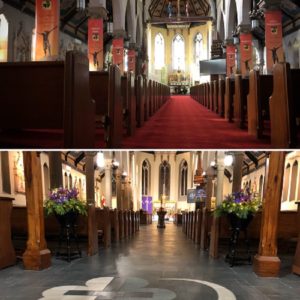 In the spring of 2012, during a time of discernment for new ministry, Fr. Tony O'Dell and I visited St. Patrick parish, in the inner city of Hamilton, ON, "incognito" for a Sunday Mass. At some point I said to Fr. Tony, "If we come here, the first thing we have to do is to get rid off this ugly old carpet". And here we are, seven years later, when it finally happened.
The renovation project "Beyond the Walls" was a part of a bigger vision for our faith community. Since the arrival of the Oblates, the parish took a missionary approach to the mission and ministry by reaching out to the poor, marginalized and unchurched. As we profess every weekend reading the Parish Mission Statement, "(…) We strive to live out of a missionary spirit that focuses our ministry on the poor and marginalized in our midst. We share our faith through hospitality and fellowship, actively embracing the call to compassion by loving others as Christ loves us."  We don't make it an empty phrase, but a call to action.
As preparation for the renovation, we took four weekends to reflect on how God accompanies us during the time of transition through the Message Series "Beyond the Walls". Reflecting on the Gospels for particular Sundays, we've learned about the importance of faith, even if it's of the size of a mustard seed. As Pope Benedict XVI once said, "I have a mustard seed and I'm not afraid to use it". The attitude of gratitude helps us to reach out to others, to go beyond the walls. We also witnessed the widow's persistence, who didn't give up on her situation with wishful thinking, but rather put her prayer into action. As we came to a deeper understanding of all that God has done for us, we also came to a deeper understanding of how much we need his mercy and forgiveness. We moved into the renovations with humble hearts.
After evening Mass on Sunday, October 27, we respectfully transferred the Blessed Sacrament to the school beside us, which became our temporary worship place for next six weeks. The old carpet has been removed (finally!), the floor was reinforced and new tiles were laid out. There was a couple of cement boards that were placed in the floor in the middle of the church, with the names of people that our parishioners wrote on as a prayer for those we wish could be here in this worship space. The walls have been painted, the pews refinished and all kneelers reupholstered. In just six weeks the church looked like brand new!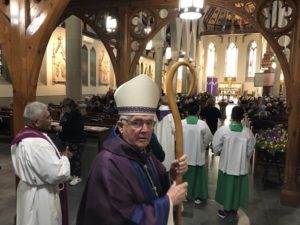 On Sunday, December 8, we all shared in the joy of entering the newly renovated worship space. Bishop Douglas Crosby, OMI of the Diocese of Hamilton, presided the Mass and blessed the church. In his homily he said, "St Patrick Parish is a place of much activity. And recently much of that activity has been to improve the worship space to make it more welcoming and conducive to prayer and celebration of the Eucharist. I am grateful for the invitation to bless the Church following the renovation and renewal. (…) It means you worked very hard indeed. I congratulate you and I thank you. May you experience special blessings every time you come here to pray – alone or with the faith community."
By Jarek Pachocki, OMI – Co-Pastor of St. Patrick Parish in Hamilton, ON