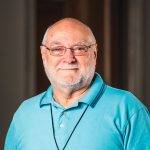 Fr. Peter Stoll, OMI
Councillor for Asia-Oceania Region
Portfolio Lay Associations in the Internal Mission Committee
To begin, I quote from the Introduction written by Fr. Louis Lougen OMI, the Superior General, to the revised Directory of Oblate Associations (D.O.A.rev.) during this 200th Jubilee of the foundation of the Missionaries of Provence.
"Before Saint Eugene de Mazenod brought together the first Missionaries of Provence on January 25, 1816, he was collaborating with lay people in his ministry to prisoners, in his work with young people and in charitable works. From the very beginning of his ministry as we know, Saint Eugene lived a special quality of closeness to the poor and to those lay people who were collaborating in his apostolic works. There was a deep sense of respect for the diverse gifts that lay people brought to the various ministries and he regarded them as real co-operators in mission." (D.O.A.rev. pg.3)