A Growing Oblate Presence at Sacred Heart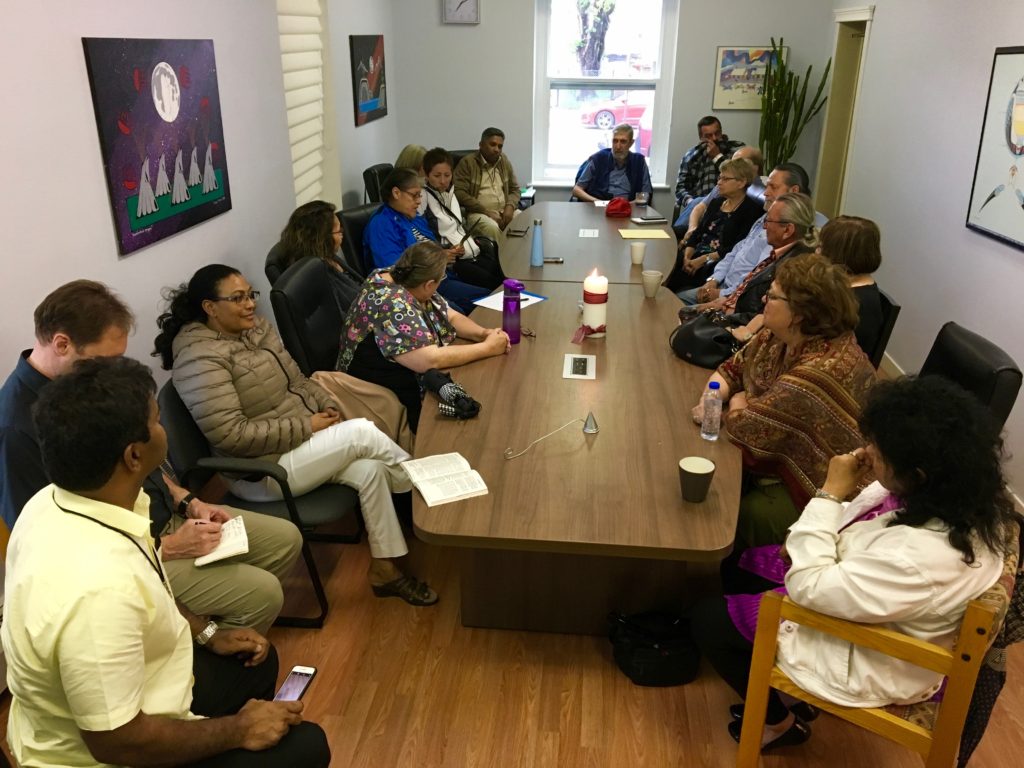 When Fr. Susai Jesu, OMI moved into the rectory at the Sacred Heart Church of the First Peoples in Edmonton's inner-city core as the new pastor in August 2017, it was as if St. Eugene moved in with him – or at least his spirit.
A first indication was an invitation to Lucie Leduc, Director of Star of the North Oblate Retreat Centre in St. Albert and me to be available to the parish as quasi-official spiritual directors. Then Oblate Associates from around the city responded to his invitation to get involved with the Christmas meals, hampers project and Garage Sales. That led to some becoming very involved in ministries such as grief ministry and accounting like David and Helen Gledhow.
The Sacred heart parish was very familiar with the Oblates presence and ministry but they did not know or hear about becoming Oblate Associates.  The latest initiative from Fr. Susai was to explain to the congregation the witness of the Oblate Lay Associates they had seen in action, and extend an invitation to anyone interested to learn how they could become Oblate Associate. Thereafter, there was an invitation to all the parishioners to attend an information meeting. That event in August filled the rectory meeting room as parishioners learned more about the process of lay association and the experience of being an Oblate from Mark Blom, OMI, Sandy Prather, Lucie Leduc, Susai and me. In early September, nine persons returned to hear Fr. Susai share more about the life and charism of St. Eugene, and I shared about his love for the Church.
Further meetings are planned as those participating learn more and discern their openness and willingness to become the newest members of the group of Oblate Associates. Not only is the spirit of St. Eugene very present in all of these gatherings – so is a huge picture of him which graces the end of the meeting room. It was as if he himself was present, silently approving, delighting in and supporting all that was happening. Certainly, there is a growing Oblate presence in this very dynamic parish, reaching out to the poor of the inner city.
By Bishop Sylvain Lavoie, OMI