The heart of the Kenya mission has a powerful beat
OTTAWA – "I'm the luckiest person in the world to be an Oblate and in this place!" runs through my mind.  I am kneeling on sacks of maize in the back of a half-ton, bouncing and jolting across the Kenyan savanna, scanning the plains dotted with acacia trees that stretch on to the distant, purple hills, winding our way to one of the Maasai missions.
"Stop!" More zebras and wildebeest.  The camera is already overflowing with photos of exactly this scene, but every click of the shutter expresses my hope to never forget this experience.
During a November 2018 provincial council meeting discussion of Fr. Ken Forster's upcoming trip to Kenya, someone casually threw the comment on the table, "I think that, as the treasurer of OMI Lacombe, Harley should go to Kenya with Ken." My jaw dropped; heads around the table swivelled toward me.
"What do you think Harley?"
"Well, ahhh … well, I don't know, ahh. I suppose. This is a bit of a surprise."
"You were there before. What, 15 years ago?"
"About that, I guess."
"We're making decisions about the Kenyan mission at this table and it's been 15 years since you were there. I think it would be good for you to go back and see these places."
Nods of agreement.
Two hours later, I am in possession of a ticket to Nairobi which, much to the chagrin of famously parsimonious Fr. Ken, cost less than what he paid months earlier.
On New Year's Day, we stepped out of cold, damp Ottawa into the warm embrace of the Kenyan Oblates.
"Karibou! Karibou! Welcome! Welcome to Kenya! How was your trip?"
Fr. Fidele, the mission superior, grins from ear to ear as he insists on taking our luggage from us and loading it into the back of the vehicle.
"Good … but long; 17 hours flying and five hours sitting in Frankfurt."
We weave our way out of the airport and fly along the Nairobi bypass, allowing us to skirt the congested city core, and arrive within 45 minutes at the Oblate residence in Karen. There isn't much interest in anything other than a shower and sleep, remembering to carefully draw the mosquito net around the bed. I'm not interested in returning to Canada with a permanent malarial reminder of this trip.
Three weeks in Kenya were a blur, a juxtaposition of people, scenery, names and impressions.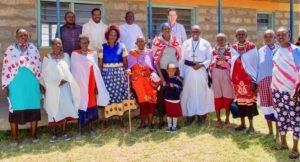 Kionyo parish is the heartland of Oblate presence in Kenya; there, more than 20 years ago, the first Canadian Oblates began. The progenitors of the mission – Ken Forster, Bill Stang and Harold Kaufman – are remembered with near reverence. Walking the Kionyo market with Ken is as close as I will ever get to being a rock star paparazzi. Trailing in his wake, snapping pictures, a wave of whispered, "It's Father Ken! It's Father Ken!" raced ahead of us. Merchants came out of their shops; mothers brought their children; selfies snapped again and again; vehicles slowed as people leaned out the window, waving and shouting, "Hello Father Ken." With each he met was the formal interaction in Kimeru:
"Murungu ni umwega!"  (God is Good)
"Magita jonthe!"  (All the time)
"Uri umwega?" (Are you well)
"Ndi umwega mono." (I am very well)
"You still speak our language!" People were delighted to hear Ken using Kimeru despite his long absence from the mission.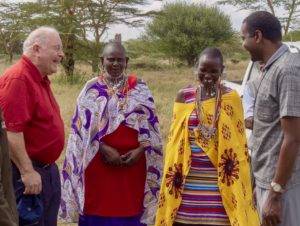 Working his way forward, to vigorously shake Ken's hand, one man declaimed, "I know you! I wasn't here when you were, but everyone knows you. Today, people don't talk about the Mount Kenya Water Project, they just call it 'Father Ken water'. All the people remember how you helped the community."
It was a scene repeated again and again throughout the next hour. Shining eyes and glowing faces witnessed to the connection people have with him.
Oblates are proud of our approach to mission, describing ourselves as "Always close to the people." Seeing Fr. Ken moving through the crowd, greeting people by name, inquiring about the health of family members, and the whereabouts of now grown children, it was apparent from their interaction that the people love him, and he loves them.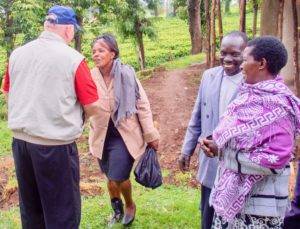 In reminiscent scenes, albeit with different Oblates in different locales, Fr. Gideon Rimberia (one of the first Kenyan pre-novices 14 years ago, now ordained and pastor of St. Paul's Parish in Kisaju), along with Bro. Joseph Magambo and Fr. Praveen, are showing the same close connection with the people.
In a country often riven by tribal animosities simmering just below the surface, Fr. Gideon is a Bantu speaker from the Méru tribe amongst Maasai, who speak a Nilotic language. Fr. Gideon's people are farmers, patiently tending their tea crop, whilst the Maasai are nomadic herders, ever in search of new pastures, restlessly moving their cattle across the parched savanna south of Nairobi. Language and culture, however, are barriers crossed over by the intentions of the heart. Fr. Gideon drives endless kilometres from the parish center, to its different missions: Embuyagat, Olturoto, Inkiele, Lenchani, Jamii Boara and Ilpolosat. Roads are mere tracks across the savannah; driving directions consist of "Turn left at that tree and drive until the termite mounds, then turn right."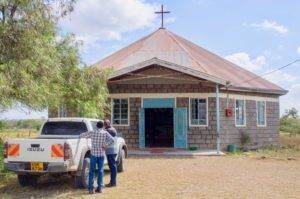 With his quiet, steady, prayerful manner, Gideon is wisdom, comfort, and hope for the people. We spent hours in Jamii Boara with the prayer house council members as they shared their struggle at being forced off the land where their church was located, and subsequent pride at how the faith community came together and quickly erected a corrugated iron structure sitting on a well-finished concrete slab. Like the miraculous multiplication of loaves and fishes, individuals have nothing, but, working together as a community with Gideon to lead them, are able to accomplish the impossible.
From the council meeting, we moved on to prayers with the family of the former parish secretary; Esther's sudden death had left her husband and family in shock. The service was in Kiswahili so although the words were incomprehensible, the strength they drew from Fr. Gideon's words of comfort was obvious.
Lenchani is about the most abandoned spot one could imagine for an educational facility. It's a Catholic-sponsored school and thus, while the Kenyan government provides some funds for basic items, they still turn to the parish for assistance. Principal Michael shared with Gideon their desperate need for funding as he showed us about: windows without panes, badly rusted, corrugated iron roofs, young children in rooms with bare, concrete floors, blackboards that consisted of an area of the wall covered with black paint (no need to look for a power outlet for the digital projector here!), 10 textbooks shared by 40 students. What I assumed was a storage shed, turned out to be a classroom. The derelict office chair used by the principal epitomized the sad state of affairs. With both the parish and Oblate community's lack of resources, Fr. Gideon was unable to promise financial assistance. Nonetheless, he was a source of hope and comfort to the staff as he listened patiently, assuring them he would do all he possibly could.
"We want to expand our church because it's too small. More and more people are sitting outside. But, most of our people come from the slum and they have so little money."
"The people of this area want to build a prayer house because they walk for more than an hour to come to church on Sunday."
"Young men want to become Oblate priests and brothers, but can we afford to accept all those who want to join? The years of training are so expensive."
Coming from a western, secularized country, where professing one's beliefs and attending church services is seen by many as a quaint, mildly embarrassing practice, Kenya is a startling change. Faith – and expressing that faith – is a normal part of life. Sundays are given over to God; what would be considered unusual is a prayer service or mass lasting a mere 50-60 minutes! How, in such a short period of time, could a congregation possibly cram in all the clapping, dancing, singing, and processions that make up a Kenyan celebration? Worship isn't a chore; it's a joy!
"Ok, Brother, just keep your eye on that fellow. He seems to know what he's doing" I mutter to myself. For someone like me ­– rhythmically challenged – it's a mystery how an entire church of people from those barely old enough to stand all the way to wizened grannies can effortlessly sway and clap in unison. I've learned to focus on one person, attempting to co-ordinate my clapping with him or her. In answer to the question, "Why don't you dance too, brother?" I prevaricate. "When I was growing up, if we so much as turned around to look at the back we would get a cuff on the side of the head … so, no, I don't dance in church." They laugh. I leave unsaid that when they are dancing and singing, it's poetry in music and motion; were I to attempt the same, the result would be less inspiring.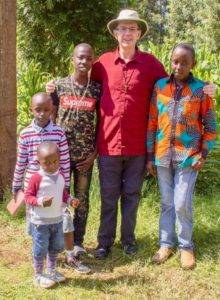 Years ago, one of our Oblates said of the Catholic high school in his parish, "Were I to go over and ask for volunteers to help at the homeless shelter, 30 or 40 would put up their hand; were I to ask how many were willing to spend some prayer time at the church, I might get a few nervously volunteering." Adult Canadians are not so different. We donate generously to humanitarian projects but are often reluctant to support people when it comes to faith-based requests. The dichotomy between faith and good works doesn't exist in Kenya. Repeatedly, I was surprised at people, evidently living in impoverished conditions, who asked for help not with things I would have found obvious such as housing, schools, and water, but rather "Can you, somehow, help us finish our church? So many people are coming but it discourages them when they have to sit outside in the hot sun or the rain because we can't all fit inside."
Given the manner in which faith permeates people's lives, it's not surprising that there are many young men seeking to serve as priests and brothers. While the original Kenyan Oblates came from the Kionyo area where we first began in Kenya, now young men are being drawn from all over the country, inspired by our option for serving the poor and devotion to Mary. And what a group of young men they are!
When speaking to the group of pre-novices, I said, "When I went to novitiate to begin my life as an Oblate, I was a dumb 19-year old who thought he knew everything but in fact knew nothing." In contrast, our Kenyan candidates range in age from 24 to 30 years old; they are men who had an established life but felt the desire within to serve Christ and the poor. It would be hard to imagine a happier, more committed group.
They, together with the formators Fr. Steve and Fr. Faustin, live at Karen, on the outskirts of Nairobi, and attend classes at the Catholic University of East Africa or Tangaza University College. From Karen, should they have the desire and be accepted to continue with the Oblate community, they will attend an intense year of novitiate in South Africa, Cameroon, or The Philippines, and then continue their studies in one of those countries, Rome or possibly the United States.
While our main financial concern in Canada is finding the money to pay for the care of elderly priests and brothers, Kenya's financial issues stem from having more young men wanting to be priests and brothers than we can afford.
Funding is needed for food, accommodations, studies, books, plane fare … and, of course, the more who join us, the higher the costs. "How are we going to pay for this" is a question that dominates many conversations. The young men are doing their part. On the grounds of the pre-novitiate is a garden they tend after university classes are over for the day, and a cow that is useful for keeping the grass trimmed, although one day it will be used for meat or sold. Fortunately for the cow, munching grass in this bucolic setting, it's blissfully unaware of the fate that lies in store for it.
A great Sunday was spent in the kitchen working with the pre-novices, teaching them how to make pizza. Ordinarily their diet consists of ugali (a very stiff porridge made of ground white corn) and sukumowiki (closely related to kale). The two dishes are eaten seven days a week so when I mentioned making pizza for students in the northern Saskatchewan community in which I taught, their ears perked up.
It wasn't long before they came along and asked if I could teach them how make pizza for themselves. As it turned out, it was a lot more difficult than I thought! Whereas I'm used to popping down to the local supermarket and picking up supplies, it's not so simple in Kenya. Local open-air markets are not selling pepperoni, ham, bacon, salami, pizza sauce, instant yeast, and mozzarella cheese.
Procuring the ingredients necessitated a trip to an upper-end shopping area, surrounded by walls and policed by security guards. The terrorist attack in Nairobi had happened days earlier and they took no chances as they searched every incoming vehicle. Going into the mall meant passing through a metal detector and having any bags X-rayed! Outside of an airport, I haven't seen such a high level of security.
Stepping inside the mall was a (near) instantaneous trip back to Canada with western fast food chains, department stores and high-end electronic stores. Searching up and down the aisles for the food supermarket got us almost all the needed ingredients, although we left without pizza sauce and had to make our own.
We spent a fun – and stressful – few hours prepping the ingredients and assembling the pizza … the stress? That came upon discovering the oven had no temperature gauge!
"How do I set the temperature for this thing without a gauge? What do the cooks do during the week?"
"I don't know, brother. They don't use it very often. Sometimes they make banana bread."
"So, I have to guess at the temperature?"
Hesitantly, comes the response, "I guess so."
"Ahhhhh! How can I make pizza when I don't even know how hot the oven is?" It was a rhetorical question, addressed in despair to myself!
In the end, the pizza crust was done more than it needed to be – which, of course is a euphemistic way of saying it was burned – but as long as one focused on the top, it looked pretty good. Good enough to eat at any rate. The fellows who had helped in its preparation were proud of their accomplishment.
Now, slogging through the snow, ice, and slush of Ottawa, dodging snowploughs and returning again and again to the car wash to rinse away the thick coat of road salt, Kenya seems like a dream. The beauty of the country; the faith of the people; the generosity of young men wanting to give their lives in service of God and the poor, are inspiring. A natural response is to want to help. In the face of such need, the Oblates of OMI Lacombe Canada continue to seek ways to enable people to improve their lives and express the faith of a young, enthusiastic church.
– Harley Mapes, OMI