Into the abyss
Fifth Sunday of ordinary time year C Luke 5:1-15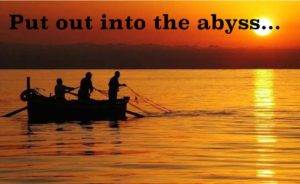 Jesus catches people with his words.  So much so that he needs to borrow Simon's boat to better share his words with the crowds who follow him.  Simon and his crew are at work so Jesus is imposing on them but Simon agrees.  Crowd and fishermen are in encounter one.  After the great catch of fish occurs and the fishermen experience the presence of God in Jesus they are in encounter two.  Encounter two is the personal experience of divine abundance within the ordinary realm of life.
Peter is probably more aware of the burden this abundance will require than his status as a sinful man.  Nowadays when I bring up priesthood or consecrated life to young men, they never say "no Father, I am a sinful man" instead they quickly say "no Father, I feel called to marriage."  But I sense that they, like Peter, are much more afraid of the burden of consecration than they are serious about marriage.
This fear arises from the deep within us.  Another word for the deep is the abyss.  Each of us has an abyss inside us.  When we approach the edge of a roof, a balcony three floors up or look straight down from bridge were crossing we feel shivers go through us.  We feel similar shivers when we experience a brush with divine abundance because we know it calls us to a deeper encounter, an encounter in which we are not in control and leads somewhere we do not know.
Learning how to be with the abundant divine abyss inside every one of us is the most important task of our lives.  And you better attend to it while you're young because the longer you wait the harder it is.  Why? Because you will have more of your own resistance to defuse.
Jesus' kingdom requires people to help spread it.  That calls people into the depths of themselves and into the depths of possibility for the world.  This can be terrifying.  Feel the terror and don't move.  Feel the terror without any excuses, reasons, analysis or any other mental or emotional shields.  See how long it takes till you settle back to yourself.
The terror is the reaction of your ego when it notices the abundance of your soul loving God.
The ego immediately springs into action and supplies whatever gestures or words are required to thwart this abundance from spreading any further: like falling at Jesus' knees saying leave me Lord, I am a sinful person.  Instead gently drown your ego in the depths of divine abundance.  Experience yourself as waves of terror and bliss rise and fall and then realize that it is in between the waves, in the ordinary spaciousness, that a new abundance emerges.
Abundance depends on things like fishing nets where there is a healthy balance between what is there and what is not there.  This kingdom abundance comes to a person that is gradually being cleansed from existential fear, unworthiness and passivity through the habit of contemplative prayer by which we descend each day to the source of love.  Then we more ably follow Jesus into the marketplace, the temple, the wilderness and the mountaintop.
By Mark Blom, OMI – Vocation Director OMI Lacombe Canada Province
_________________
Feel free to contact Fr. Mark for advice about discernment and vocation direction.  He can meet with you by phone to conduct a short vocation assessment to help you find your way.  Contact him at vocations@omilacombe.ca to arrange for an appointment.