"It helps, now and then, to step back and take the long view … "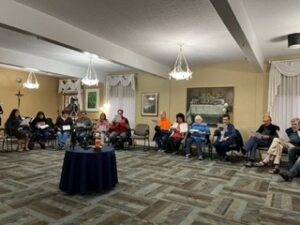 A few weeks ago, we gathered at Star of the North Retreat Centre in St. Albert as Oblates and Oblate Associates for a 'kick-off' of the coming year.  The Hearth Room was set up in a circle, which kept widening as more people joined in.  There were over 30 of us gathered from Brother Anthony District.  It was wonderful to be see each other in person; all of us keenly aware of the covid dance that we have been doing the last few years.  Together we represented three BOC'S – The Star of the North, Gareth Place, and Sacred Heart –as well as inquirers on the journey to Oblate Association, new Oblates to our district and those not yet in a BOC.
The idea of a kick-off event emerged at a meeting of District Animators, Fr. Susai Jesu and I, and BOC Facilitators, Dan Friedt and Sandy Prather.  We wanted to bring everyone together and provide an opportunity for people to connect, discuss where we are at and how we are continuing to move forward.
We planned a short program that started with prayer and then a little historical overview.  What is a BOC (Basic Oblate Community)?  How did they come about?  Where are we at with BOC's or intentional communities at this point in time?   These were questions we came with for discussion.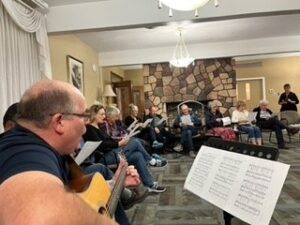 As I reflected on these questions prior to the evening I felt that was like sitting on a plateau and looking back at the vista.  It brought me back to 1999 when we had just recently moved to Edmonton.  It was my first encounter with the Oblate community in the area, and it came at a time of change both in my life and in the life of the Oblate community at large.  Personally, it led to the life-giving ministry I got involved in for many years with the Oblate Parish Mission team.  In the Oblate world it was a time of celebration as Eugene de Mazenod had been recently canonized in 1995.  Lay men and women were wanting to learn more about this new saint and the Oblates of Mary Immaculate that he founded.  Sandy Prather was director of the Star of the North Retreat Centre at the time and played a major role in bringing this amazing person to life.  At the same time, a new pilot program had been created to bring vowed Oblates and lay people together for learning, sharing and prayer and I remember Fr. Camille Piché meeting with a small group to try it out.   Soon after this, OMI Lacombe Canada became a province and a small group of lay people attended the convocation in 2003 of this newly formed reality and I was among them.  This is when I first heard the term OBC, Oblate Basic Community, later to be changed to BOC, Basic Oblate Community.
Change is never easy and embracing this large change from many provinces to one was often bumpy.  Forming in BOC's did not go exactly as it seemed to be envisioned at the convocation.  We often fear what we don't know or do not really understand, and it can be challenging to trust the movement of the Spirit at times of change.  Yet through it all BOC's did form and Oblates and Oblate Associates did come together to share faith, life, prayer and we collaborated in various ways.  New people became Oblate Associates and others renewed their commitment.  A new formation program was created making us Oblate Associates of OMI Lacombe Canada.  Receiving my Oblate cross as an Oblate Associate of OMI Lacombe Province for the first time at St. Charles Parish is an event I will always cherish.  For me, being an Oblate Associate has brought into an experience that seems to me more similar to the early church.  It is an experience of community, of communal and personal prayer, of sharing deeply and richly of our lives, and of reaching out in service to those in need, whatever form that might take.
It's hard to believe that over twenty years has passed since 1999 and my first connection with the Oblate community in an intentional way.  Things continue to change.  Many Oblates and Oblate Associates have moved away; many have died.  Through it all continue to meet and to grow close to Christ as a community.  That is something to be grateful for and rejoice in!  It has not always been smooth, and we have not always known where everything was headed, but we have been faithful to the unfolding of time and the unexpected and surprising events that we experience along the way.  This is what I love about the prayer dedicated to Oscar Romero.  It reminds me that all this is God's work that we are privileged to participate in it.  So, at this wonderful time of year, this time of celebrating harvest while watching leaves change color and falling off the trees, may we have hearts filled with gratitude for the gift of St. Eugene de Mazenod, for the Oblate charism, the Oblate community, and the enormous gift of sharing life, faith, and service shoulder to shoulder.  In the words dedicated to St. Oscar Romero:
It helps, now and then, to step back and take the long view.
The Kingdom is noy only beyond our efforts; it is even beyond our vision.
We accomplish in our lifetime only a fraction of the
magnificent enterprise that is God's work.
Nothing we do is complete, which is another way of saying that
the kingdom always lies beyond us.
No statement says all that could be said.
No prayer fully expresses our faith.
No confession brings perfection.
No pastoral visit brings wholeness.
No program accomplishes the church's mission.
No set of goals and objectives includes everything.
This is what we are about.
We plant the seeds that one day will grow.
We water the seeds already planted, knowing that they hold future promise.
We lay foundations that will need further development.
We provide yeast that produces effects far beyond our capabilities.
We cannot do everything and there is a sense of liberation in realizing that.
This enables us to do something and to do it well.
It may be incomplete, but it is a beginning, a step along the way,
an opportunity for the Lord's grace to enter and do the rest.
We may never see the end results, but that is the difference between
the master builder and the worker.
We are workers, not master builders; ministers, not messiahs.
We are prophets of a future not our own.
By Debbie Doornbos