Our Lady of Guadalupe Circle
Reflection on the Covid-19 Pandemic
Today, in this Easter season, Our Lady of Guadalupe Circle, releases a reflection on the Covid-19 pandemic. The Our Lady of Guadalupe Circle is a Canadian Catholic coalition of Indigenous people, bishops, clergy, members of lay movements and male and female institutes of consecrated life that seeks to renew and foster relations between the Catholic Church and Indigenous Peoples in Canada. This open letter to all Canadians brings to light both challenges and opportunities for all as we collectively navigate these unprecedented times.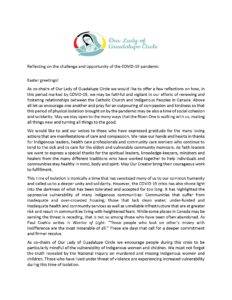 ******************************************************************************
Aujourd'hui, en ce temps de Pâques, le Cercle Notre-Dame-de-Guadalupe publie une réflexion sur la pandémie de COVID-19. Le Cercle Notre-Dame-de-Guadalupe est une coalition catholique canadienne composée d'Autochtones, d'évêques, de membres du clergé, de mouvements laïcs et d'instituts masculins et féminins de vie consacrée, qui cherche à renouveler et à favoriser les relations entre l'Église catholique et les peuples autochtones du Canada. Cette lettre ouverte à tous les Canadiens et Canadiennes soulève tant les possibilités que les difficultés auxquelles nous sommes tous confrontés alors que nous traversons collectivement cette période sans précédent.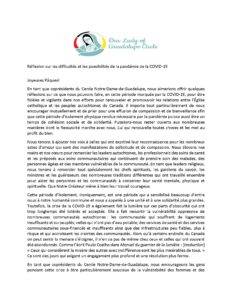 Site internet: www.ourladyofguadalupecircle.ca