List of capitulars of the 37th OMI General Chapter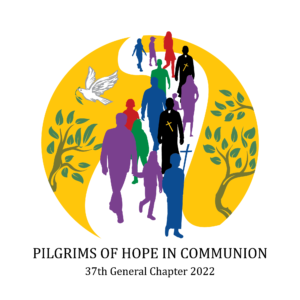 A General Chapter strengthens the bond of our unity and allows the members to participate in the life and mission of the Congregation. "The Chapter is a privileged moment of community reflection and conversion, discerning God's will in the urgent needs of our times and to thank the Lord for the work of salvation which he accomplishes through us." (C125)
In the composition of a General Chapter, the number of members elected by the Congregation must constitute the majority of its members. Furthermore, the Conference of an Oblate Region submits for the approval of the Superior General in Council, procedures for the election of its delegates.
Having reviewed the names of the delegates and alternates from the Oblate World, the Superior General has presented the names to the Pre-capitular Commissioner. The Pre-capitular Commission, certifying the names and the eligibility of those presented, is ready to publish the names of the elected delegates.
There are thirty-three ex-officio members (General Administration, Superiors of Units with more than sixty members) plus forty-three elected capitulars. Additionally, the Superior General may invite two capitulars which brings the total to seventy-eight.
There are also thirty-five Oblates invited to serve the Chapter as auxiliary personnel.
We will have the list of capitulars with their photos published on our OMIWORLD page dedicated to the 37th General Chapter in April.
Rome, Solemnity of the of the Annuciation, March 25, 2022
Fr. Louis Lougen, OMI
Superior General
President, Pre-capitular Commission
Fr. Tom Ovalle, OMI
Commissioner, Pre-capitular Commission
1. Ex-officio members (33)
A. General Administration (10)
| | |
| --- | --- |
| Louis Lougen | Superior General |
| Paolo Archiati | Vicar General |
| Cornelius Ngoka | Assistant General |
| Ramon Bernabe | Assistant General |
| Antoni Bochm | General Councilor |
| Guillaume Muthunda | General Councilor |
| Peter Stoll | General Councilor |
| Warren Brown | General Councilor |
| Marc Dessureault | Treasurer General |
| Constant Kienge Kienge | Procurator General |
B. Superiors of Units with more than 60 members (23)
AFRICA-MADAGASCAR (7)
Ferdinand Owono Ndih
Cameroon
Sidney Mothusi Boatile
Lesotho
Alphonse Philbert Rakotondravelo
Madagascar
Provincial
OMI-SA
Joseph Ntumba Maboyi
Congo
Louis Diedhiou
Senegal
Raymond Mwangala
Zambia
LATIN AMERICA (3)
Lindomar Felix Da Silva
Brazil
Jorge Albergati Tejera
Cruz del Sur
Ellince Martyr
Haiti
ASIA-ASIA-OCEANIA (5)
Roshan Silva
Colombo
Provincial
India
Eugene Benedict
Jaffna
Gerry Gamaliel De Los Reyes
Philippines
Emmanuel Tran Quang Khuong
Vietnam
CANADA-UNITED STATES (3)
Kenneth Thorson
OMI Lacombe Canada
Luc Tardif
Notre-Dame-du-Cap
Louis Studer
United States
EUROPE (5)
Oliver Barry
Anglo-Irish Province
Felix Rehbock
Central European Province
Vincent Gruber
France
Gennaro Rosato
Mediterranean Province
Paweł Zając
Poland
2. Elected Delegates (43)
AFRICA-MADAGASCAR (11)
Namibia-Zambia
Erastus Kapena Shimbome
South Africa-Zimbabwe
Lizwelinjani Mlotshwa
Thabani Shoba
Cameroon-Nigeria
Noël Doolalila
Peter Claver Anucha Osinachi
Congo-Angola
David Ibwidi
Jean-Baptiste Malenge
Lesotho-Botswana
Paul Katase Katase
Madagascar-Kenya
Mfrankiel Fidèle Munkiele
Senegal-West Sahara
Joseph Ndong
Brother
Mirabeau Diatang
ASIA-OCEANIA (10)
India-Bangladesh
Ajit Victor Costa
Australia
Christian Fini
Indonesia-Turkmenistan
Eko Saktio
Jaffna
Emmanuel Godfrey
Japan-Korea
Jude Peirispulle
Pakistan
Khan Masih Paulus
Philippines & Thailand-Laos
Ross Kapunan
China-Vietnam
Mark Anthony Serna
Colombo
James Jayasinghe
Brother
Gorgonio Bongao
CANADA-UNITED STATES (6)
Assumption Province
Alfred Grzempa
Notre-Dame-du-Cap
Rémi Lepage
OMI Lacombe Canada
Richard Beaudette
United States
Raymond Cook
Antonio Ponce
Brother
Harley Mapes
EUROPE (10)
Anglo-Irish
Leo Philomin
Belgium-Netherlands
Daniël Coryn
Central Europe
Vlastimil Kadlec
France
Martin Kedah
Mediterranean
Alberto Gnemmi
Alberto Ruiz Gonzalez
Poland
Wojciech Popielewski
Paweł Wyszkowski
Roman Tomanek
Brother
Wieslaw Ratajczak
AMERICA LATINA (5)
Brazil-Peru-Bolivia
Manuel Jesús Fuertes Astocóndor
Mexico-Cuba-Guatemala,
Baja California-Puerto Rico
José Ariel Martínez
Cruz del Sur-Venezuela
Sergio Serrano
Haiti-Colombia-French Guyana
Gasner Joint
Brother
Phaniel Neptune
OTHER (1)
General House
Henricus Asodo
Published on the OMI World website