New Needs, New Means:
OMI Lacombe Canada Responds
Oblates and Associates are responding across the country, creating new means to meet new needs of the time.  Here are a few stories about what's taking place across the Province.  Throughout these weeks, we hope our sharing helps us to maintain connection, bridge the distances, and inspire us.  We are in this together with the Spirit to guide the way.
This week we have stories from Brother Anthony, BC, Taché Districts and Kenya.
To submit your stories, please email Fr. Richard Beaudette at vicar1@omilacombe.ca
Brother Anthony District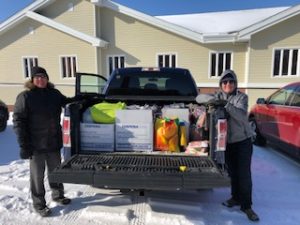 Oblate Associates Serena Shaw, Bernie Hryciw and Leo Beaudry, with the help of others, responded to Fr. Les Kwiatkowski's request for food and essentials for the Lac St. Anne parish community.  Albert community and parish members have been invited to drop off food items at St. Albert parish for delivery to Lac St. Anne and Sacred Heart Parishes.  People have responded generously, and the trucks of goods are gratefully received.
Serena commented on how blessed she felt to be able to help.  "The opportunity to help Father Les and his community was obvious, something easy to see and name," she said. "People came forward quickly, as if they had been waiting for something like this.  I feel like this call to action was as beneficial for those that donated as for those that needed the food.  As we are isolated from each other, a time to see our friends in person, even from a distance was an unexpected act of charity!
BC District 
Father Andrew Stendzina, pastor of St. Augustine's Parish, speaking from 'a very quiet Vancouver', described how parish life is continuing, albeit with a steep learning curve for everyone.  Using ZOOM primarily, they have been able to continue celebrating Eucharist, holding bible study, RCIA and other parish meetings.  They've even managed a few small weddings and funerals in the past weeks!
Fr. Andrew notes that they use ZOOM (as well as Facebook) for the Masses, with people signing in on their devices.  He likes it because, as the presider, he can see people's faces, and they are able to join in.  Families, he says, for example, are able to offer the responsorial psalm.  It makes for a dynamic experience for everyone, he says.
They have been able to keep a small section of the church itself open for private visits (with strict protocols for sanitizing!) and the parish office is open with limited hours, to meet people's needs.  Finally, Fr. Andrew reaches out through personal contact, having begun a telephone ministry to parishioners.  It will take him a while to get through the list, he thinks, but with a few calls a day, it's a start!
Taché
Robert Laroche's main goal during the lockdown of the COVID-19 is to learn, learn, learn more about painting.  At the moment he is studying colour theory, brush strokes and technique.  He also keeps a journal or "Codex Historicus" of what is happening in his life and that of the neighbourhood.  As he ran out of writing paper he now uses brown wrapping paper to write on.  To make things more interesting and creative, he writes and seals his paper the way it was done in the 18th century.
Here are a few of his paintings:
Kenya

The Kenya Mission Members and Communities around are doing well and no cases reported yet among our brothers, our parishioners and our youth.  We thank God and thank you for all your prayers.
Lots to be concerned about around Kenya – the COVID pandemic and the locust plague threatening to start again.
The young Pre-Novices here in Karen are very impressive.  They are working the garden, working the kitchen – with occasional specials from Fr. Vong – and still preparing for exams and doing assignments.  They are also busy with the Chapel preparations, music preparations and practice, etc.  Always good smiles and joyful conversation.
There was a concern about Fr. Greg Oszust, OMI down in Tanzania (studying Kiswahili), because he is unable to cross the Kenyan Border due to lockdowns.  Fr. Greg said new cases are coming up every day.
Fr. Daquin Iyo, OMI remains in Karen, where he was in quarantine after his return from meetings in Rome.  The day his quarantine finished travel was prohibited, preventing his return to the parish in Meru.
Adding my Voice: Advocacy for a Better World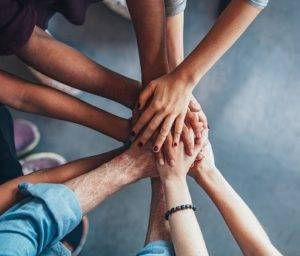 Perhaps, at a time of physical distancing, we feel that we are on a repetitive treadmill…those of us stuck at home lose track of the days and might seem to accomplish little.  But Christians can use these moments to recommit to making change happen…and the good news is that some success is withing reach!
Debt Relief
Readers of the Centre Oblat News/Nouvelles (March 31 issue, #23) read OMI Lacombe Canada Provincial, Fr. Ken Thorson's invitation to support the campaign for debt cancellation for countries of the "Two Thirds World."  Then, on Easter Sunday, Pope Francis made a powerful call for debt payment suspension, and a process for debt cancellation.
The result?
Last week the debt of the 25 poorest countries saw 6 months of debt cancelled and 77 of the world's poorest countries saw debt collection stop for 6 months, interest free.  This will free up more than $25 billion dollars to bolster their health care systems.  $4.5 billion of Somalia's debt was cancelled too!  Many of these countries have between zero to 50 critical care unit beds in their entire territories.  More than 70% of those who live in extreme poverty on our planet call these countries home.
To participate in the Jubilee debt cancellation campaigns, see: IMF: Protect Vulnerable, Prevent Financial Crisis as COVID-19 Spreads
COVID-19 is striking hard, but OUR participation in social justice advocacy is already starting to make a difference!
(To receive the Centre Oblate newsletter, "News/Nouvelles," every two weeks, just send a note to the editor, Richard Wink, centreoblat@gmail.com
Lifting Our Spirit
In these uncertain times, we need to care not only for our physical health, but for our emotional and spiritual health as well.  We all need something to lift our spirits!  Each week, we will be presenting you with something you might find inspirational, comforting, thoughtful or even, perhaps, amusing!
The Bells of Banff
The Covid-19 Response Working Group:
Fr. Richard Beaudette – vicar1@omilacombe.ca
Isabelle Gigault – igigault@omilacombe.ca
Lucie Leduc – director@starofthenorth.ca
Joe Gunn – jgunn@omilacombe.ca
Sandra Prather – sandramprather@gmail.com