New Needs, New Means: OMI Lacombe Canada Responds
Oblates and Associates are responding across the country, creating new means to meet new needs of the time.  Here are a few stories about what's taking place across the Province.  Throughout these weeks, we hope our sharing helps us to maintain connection, bridge the distances, and inspire us.  We are in this together with the Spirit to guide the way.
This week we have stories from Ontario, Saskatchewan and Brother Anthony Districts and the Kenya Mission.
To submit your stories, please email Fr. Richard Beaudette at vicar1@omilacombe.ca
Ontario District – Oblate Associate Gail Hillier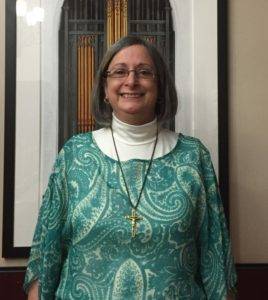 Where do we get our strength? For Ontario Associate Gail Hillier, it is in her Oblate cross. During these days of the pandemic, she has come to rely on it in ever deeper ways.
Gail works in a long-term care facility in Ottawa and her awareness of the vulnerability of the residents is acute. She was grateful to see protective measures put in place early by their pro-active Administrator, but even so, first one and then a second staff member tested positive for Covid-19.
Health Services came in and, declaring an outbreak, increased the safety protocols for everyone. Staff donned PPE, residents were isolated in their rooms and the common areas were shut down. The isolation was hard on everyone and workloads for all the staff increased dramatically. "It was so hard," Gail remembers.
Eventually, with careful and intense effort, they were able to limit the outbreak and only five staff members were infected. The outbreak has now been declared over and some restrictions eased. Activities have resumed and, while life certainly isn't yet normal there, there is some relief.
Gail's major concern then, and now, is not that she would get the virus, but that she might transmit it to someone. That fear is exacerbated by the fact that she travels to and from work on public transit. Scheduling cuts mean not only longer waits and less flexibility, but everything is more crowded. "I sit as far back in the bus that I can," Gail notes with a rueful laugh, "but social distancing is pretty hard to do."
It was then, in that stressful atmosphere where uncertainty reigned, that Gail began wearing her Oblate cross to work everyday. It's discreetly tucked away but, "Just knowing it's there, close to my heart, gives me strength," she avers. She recognizes, with gratitude, the support she garners from her faith, which in turn, is supported by her Oblate family. She partakes in the online course 'Eugene 101' with fellow associate Eleanor Rabnett and as she gets to know St. Eugene more deeply, she recognizes how much he is a saint who speaks to her. Her Oblate parish, St. Joe's, feeds her spirit with various offerings, including the Sunday reflections.
"My spiritual family helps me remember that God holds and guides me and all of us," Gail states. "Really, there are a lot of positives that are coming out of this." Her great hope is that one will be a new focus on care homes and the issues therein.
"The cross is central to our mission," Eugene de Mazenod affirmed. As Oblate Associate Gail Hillier navigates the pandemic, it is essential to her life.
Saskatchewan District – Fr. Glenn Zimmer, OMI – Qu'Appelle House of Prayer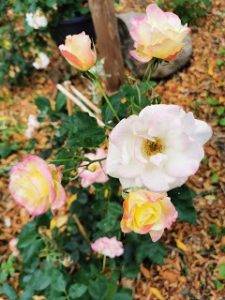 Down in the Qu'Appelle Valley of southern Saskatchewan, Glen Zimmer, OMI moves slowly and attentively into the morning's work.  He sees the two sides of things as they are right now.  The first being that these are "strange times".  The Qu'Appelle House of Prayer is "shut right down," he considers matter-of-factly, with only a few, "well-considered, self-isolating guests" who've been through since the pandemic began. Revenue has dried up like with so many places, and things continue to need fixing or replacing on the sacred grounds.  He's joined for daily mass by his colleague Chantelle Bonk, PM and occasionally Sr. Teresa Feist who's been part of the usual daily mass community for some years.  The numbers have dwindled.
On the other side, he reflects, there is a new gift to these times, "…something we won't want to give up when the pandemic is over.  I appreciate the extra solitude – the kind of solitude that connects us up with who we are inside and our oneness with everything.  I've never been so attentive to the coming of spring and to nature. Every leaf stands out!  I make a point of not showing up at my desk till after 11am," he discloses thoughtfully, and mentions Chantelle celebrating her 26th anniversary of religious life this week, who is up by 4:30am or 5am, each morning and gone from the chapel by the time he arrives for his morning prayer.  "She came along as a surprise and fits in perfectly.   She has energy, talent and lives the spirit of our House of Prayer.  We meet up at around 10am to work."
On this day, the work has been about finishing up a rose garden in honour of Sr. Margaret Dick, SNJM, co-founder of the Qu'Appelle House of Prayer who passed last year around this time.  "When we first began our work here, Margaret used to say, 'even if people don't come to the House of Prayer, it will always be a house of prayer because we will be here in solitude and prayer." Of course, many people have made their way to the quiet and solitude of the Qu'Appelle House of Prayer since then.   Glen imparts that bit of wisdom we will all be reluctant to give up after the pandemic ends: "The solitude isn't of loneliness, but of deep connecting with others, with nature and so much more in ways we never have before."  He briefly opens and shares passionately on St. Paul's encounters with the Greeks in today's first reading – how Paul with such great respect for the religious beliefs of the Greeks, shares with them the resurrection of Jesus.  They take it or leave it Glen muses, "… and Paul takes off for Corinth". He seems to imply, there's a flow of Resurrection Spirit to life deep below the surface that rises out of solitude and never imposes on others. Glen carries on quietly and gently at Qu'Appelle with planting seeds, creating gardens of all kinds, where a welcome hospitality endures.
Brother Anthony District – Fr. Leszek Kwiatkowski, OMI – Lac Ste Anne Parish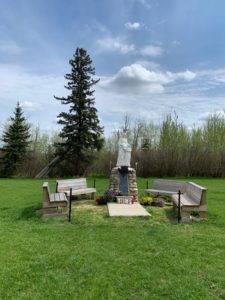 At Lac St. Anne parish, Fr. Leszek Kwiatkowski, OMI is finding life as busy as before the pandemic.  "Life goes on," he says, "Our parish is going like any parish in the diocese.  We have Sunday masses on Zoom and Facebook.  Elders were asking for Zoom, so we accommodate them.  On Wednesday evenings, five or six people gather in front of the statue of St. Anne's outside on the grounds and we say rosary together.  I invite people at home to join at the same time, to light a candle at home, gather with families and kids and pray rosary for the month of May."  He's just come out of a planning meeting with workers and diocesan personnel to plan summer work for renovations and upgrades on the pilgrimage site.  With both the Family Life Conference and Lac St. Anne Pilgrimage cancelled, they have an opening to move ahead with improving sound and making other upgrades on the site for the future.  Meanwhile, he says, people are constantly dropping in to pray, to visit.  "Two weeks ago, two families from LaRonge drove here eleven hours to pray for their community afflicted by an outbreak of the virus.  I prayed with them and gave them a blessing."  Along with these ongoing cares and anxieties for people, he mentions there has been a big spike in the need for food and clothing for the people of the area since Easter.  With unemployment and income reduced everywhere, he's grateful to Serena Shaw Coordinator of St. Albert parish, and other organizations that collect much needed food and clothing monthly for Lac St. Anne and Sacred Heart.  "Which is awesome!" he says.  Despite the growing needs, he notes "Positive things are coming out of this.  Many families felt it was so weird at first to have kids at home with no games to drive to and no outside activities.  But with time, some started praying together, spending more time together and they settled into being family.  Some said, 'for many years we didn't have a garden and now we've planted one again!".  Yes, he confirms, there are positive things coming out of this.
Kenya Mission – Fr. Daquin Iyo, OMI – St. Eugene de Mazenod Irinda Parish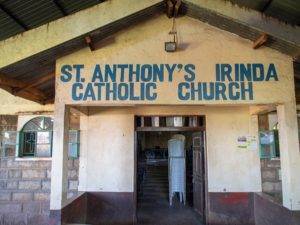 Returned to Kenya on March 19th from my long journey from Rome where I experienced my first quarantine at the General House for 13 days, followed the second quarantine for 21 days, I am finally in my community in Meru for two weeks now.  In these days, I have experienced major changes in people's life; dynamics are no longer the same- a sense of loss enthusiasm, hopelessness and helplessness.
Adding my Voice: Advocacy for a Better World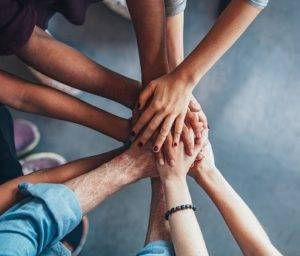 You are reading this right in the middle of Laudato Si Week, May 16 – 24!
Pope Francis' landmark Laudato Si': On Care for Our Common Home, released on May 24th, 2015, marked a watershed moment in Catholic Social Thought, the first time an entire encyclical was devoted to the topic of "integral ecology."
How can we celebrate Laudato Si Week in Canada?
Should you care to watch a video that features the major themes of Francis' document, with interviews of environmentalists such as David Suzuki, Maude Barlow and Tony Clarke singing its praises, spend a few quiet minutes watching:
Over 500 Canadians have already signed a letter urging the federal government to take swift and concrete steps to address the climate emergency in a way that will ensure a greener, and more equitable, post-pandemic future. The "Catholics for Climate Action" letter is available for signature until this weekend, at Catholics for Climate Action – SIGN LETTER HERE
If you've already signed – please increase your impact!
Some religious who live in the same residence are inviting their Member of Parliament to meet with them on-line to review the content of the "Catholics for Climate Action" letter and discuss suggestions for post-pandemic recovery. You, and a couple of friends who live in the same federal riding, could contact your own MP to arrange a similar encounter. The Centre Oblat has a backgrounder available to help guide your conversation with your MP – simply request a copy at jgunn@omilacombe.ca
And if you'd like to add a special prayer with an environmental theme to your devotions this week, why not choose Francis' own prayer, from the final lines of his encyclical? Available at: http://www.vatican.va/papa-francesco/enciclica-laudato-si.html
Lifting Our Spirit
In these uncertain times, we need to care not only for our physical health, but for our emotional and spiritual health as well.  We all need something to lift our spirits!  Each week, we will be presenting you with something you might find inspirational, comforting, thoughtful or even, perhaps, amusing!
The Gift of Planet Earth!!!
 A Prayer to Combat the Coronavirus Pandemic
Most Merciful and Triune God, We come to You in our weakness. We come to You in our fear. We come to You with trust. For You alone are our hope. We place before You the disease present in our world. We turn to You in our time of need. Bring wisdom to doctors. Give understanding to scientists. Endow caregivers with compassion and generosity. Bring healing to those who are ill. Protect those who are most at risk. Give comfort to those who have lost a loved one. Welcome those who have died into Your Eternal Home. Stabilize our communities. Unite us in our compassion. Remove all fear from our hearts. Fill us with confidence in Your care. (mention your particular concerns and prayers now) Jesus, I trust in You. Jesus, I trust in You. Jesus, I trust in You. Amen.
10, Prayers for Hope and Solidarity In a Time of Pandemic, La Civita Cattolica.
WE WELCOME YOUR COMMENTS, REACTIONS AND STORIES!
Fr. Richard Beaudette – vicar1@omilacombe.ca
Isabelle Gigault – igigault@omilacombe.ca
Lucie Leduc – director@starofthenorth.ca
Joe Gunn – jgunn@omilacombe.ca
Sandra Prather – sandramprather@gmail.com