New Needs, New Means: OMI Lacombe Canada Responds
Oblates and Associates are responding across the country, creating new means to meet new needs of the time.  Here are a few stories about what's taking place across the Province.  Throughout these weeks, we hope our sharing helps us to maintain connection, bridge the distances, and inspire us.  We are in this together with the Spirit to guide the way.
This week we have stories from Taché, Brother Anthony and BC Districts and the Kenya Mission.
To submit your stories, please email Fr. Richard Beaudette at vicar1@omilacombe.ca
Taché District – Oblate Associates Margot Lavoie and Greg Dunwoody
For Oblate Associates Margot Lavoie and Greg Dunwoody, ministry under Covid has changed but certainly not ceased. Manitoba has an amazingly low number of cases, 292 at last count with only 7 active throughout the province, but full public health measures have been in place since March 20, 2020. So, like all Winnipeggers, Margot and Greg are self-isolating and social distancing. But their ministries continue under new forms.
As the Faith Coordinator at St. Kateri Tekakwitha Aboriginal Catholic Parish, Margot experienced a drastic change as the parish office closed and much of her work ceased almost overnight. Now, instead of programs like sacramental preparation or Bible studies, she has a telephone ministry. Part of her days are spent making phone calls to parishioners, checking in on them and offering both presence and a listening ear. Some work has continued through ZOOM: there have been various meetings with catechists of the diocese and Returning to Spirit conferences. An unexpected benefit of spending a greater amount of time at home has led her not only to clean the odd corner but to refocus on her personal spirituality. She took her own 'mini-sabbatical' during Lent and is now rediscovering old spiritual classics, ['Cloud of Unknowing'], and new ones, [Rohr's 'Universal Christ']. Margot keeps her hands busy too: in addition to making some masks, she now volunteers part-time making meals for the homeless. With the parish office scheduled to reopen at the beginning of June, Margo will see another change in her ministry, but knows it will continue to be different.
Greg's ministry continues as well. He officially retired from prison chaplaincy April 2020 but has since then been involved in a tri-diocesan project of community chaplaincy. The Ukrainian Eparchy, St. Boniface and Winnipeg dioceses came together last summer to sponsor a program in support of newly released prisoners. Greg has been working with a Task Force to get it running. Entitled 'We are Neighbors,' it's a program where an ecumenical team of volunteers meets weekly with newly released prisoners, along with a partner or friend, and offer support and encouragement to them as they try to make their way in an often-unsupportive environment. The program was to run in selected local parishes and churches but Covid, of course, delayed the start. Recent efforts have revolved around meeting the various health and safety protocols. As of now, they are hoping to have their first meetings at the beginning of June and if not then, by September.
Both Greg and Margot have continued their ministries in new ways, meeting the new challenges of the pandemic. As they do so, their hearts remain with the marginalized in their city. They both feel deeply the plight of the many vulnerable residents and they lament the lack of care especially for the homeless. For them, the pandemic has highlighted the call to the churches to focus on more than the sacraments. The social justice dimension of comforting the lonely, feeding the hungry, sheltering the homeless and taking care of prisoners has become a sacred demand. In their own ways, they are answering that call.
Brother Anthony District – Fr. Alfred Groleau, OMI – Community Director of Foyer Lacombe
When asked how things are going for him since the pandemic began, Fr. Alfred Groleau says, "Things are going well enough here, …as well as can be expected.  We get excellent care and are fed our meals daily."  Of course, there have been plenty of "waves and curves and bumps" he notes, recalling a variety of events with the Oblates in his care since the beginning of the pandemic.
When he brought Fr. René Bélanger to emergency at the hospital near the time of the onset of COVID-19, he was assigned as Fr. René's designated visitor.  A day later, that privilege was withdrawn, and visiting was not allowed. Soon after, he was allowed in once again as Fr. René was dying, and thankfully, he was with Fr. René when he died.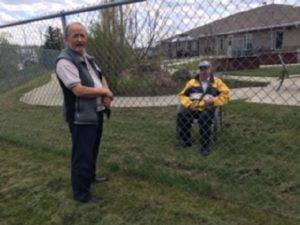 In the case of Fr. Gilles Gauthier at the Villeneuve Long Term Care, there again he was blocked from visiting for a time.  It wasn't too long before warmer weather arrived along with an opening of restrictions at the Care home making room for some outdoor visits with Fr. Gilles.  As recent as last week, Fr. Alfred visited outside with Fr. Gilles to celebrate his birthday.  "He's in good spirits and enjoys his new environment.  I'm very grateful. These are precarious situations and it removes pressure to have places for proper care where I can visit regularly."
He mentions there have been health issues.  At 95 years old, "Fr. Louis-Phillippe struggles with water retention" affecting the heart and lungs.  Fr. Louis' cardiologist is away sick recently, "He might've caught the virus.", Fr. Alfred considers.
"An interesting thing" he declares with a soft anticipation and excitement in his voice, "…there's a secret plan in place for Fr. Al Hubenig's 89th birthday this Thursday.  Joanne and Dan Friedt have made plans for a small, intimate supper on the patio followed by a drive through, distancing, Birthday celebration!"  These are the creative ways we make to get through and be together as best we can.
BC District – Fr. Gilbert Bertrand, OMI – St. Mary's Parish, Prince George, BC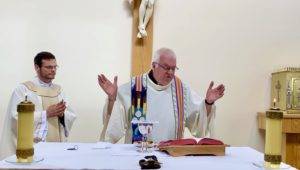 New needs, new means indeed! Pastor Father Gilbert Bertrand, OMI., and Associate Pastor Father Ken Anderson probably never foresaw the day when attendance at Sunday Masses would require a ticket through EventBrite. Yet that is the new normal for them as they go forward.
Responding to British Columbia's gradual reopening, Bishop Stephen Jensen of Prince George Diocese had announced the opening of parishes for Sunday Mass beginning May 24, 2020. Father Gilbert and Father Ken were already celebrating liturgies in a variety of ways with the parish, live streaming much of Holy Week, and uploading Sunday masses, for instance, as well as offering Mass and Adoration of the Blessed Sacrament daily. Yet this would present a new challenge.
They were well placed to respond however, having a very active parish-based Covid-response team to assist. This committee was established at the beginning of the pandemic and comprises the lead members of the major ministries as well as the pastoral staff. Meeting once a week, they discern needs and provide responses. One of the first initiatives was to identify the vulnerable in the parish and seek to support them. The solution was to draw up a 'telephone tree' whereby these folks are phoned every week. It is the role of the committee, on an on-going basis, to ensure that the life of the parish continues vibrantly.
That life is seen in the many groups, who with the help of social media, are able to remain active. RCIA mystagogy continues, the Knights of Columbus meet, the Finance committee can do its work.  The pastors are especially pleased that there is a very involved Youth Group, with about 25 members, who meet online twice a month. Father Gilbert jokes that he feels sometimes even busier than he was before, what with all the sanitizing and cleaning that needs to be done so they can stay operational. But both priests are quick to point out that it is the parishioners themselves who have fostered the community's life. They note the extraordinary commitment and generosity of so many of them in coming forward and volunteering to handle tasks and take responsibility. Father Ken notes his hope that this will be a long-lasting benefit of the crisis. That, he says laughingly, and the forced move into using technology. While evangelization through social media has long been on the church's agenda, few churches took the opportunity. The pandemic has compelled the church to enter the forum quickly.
So with all that in place, the pastors and people undertook to open the church for the first Sunday Masses in several months. Extensive health protocols were implemented: sanitizers, cleaning be the church between the masses, marking off pews and aisles for safe social distancing etc.  With group size in the province being limited to fifty, a major issue was controlling the size of the gathered assembly. Enter EventBrite, a free ticketing service. Parishioners were invited to sign up for one of the four Masses, with a limit of forty-five for each Mass. Hospitality minsters, wearing masks, checked off names at the entrance to the church, ensuring a record for health officials should it be needed.
Father Gilbert reports that the Sunday celebrations went very well.  The attendance was excellent and the safety procedures were carried out smoothly. Mostly, he says, people were just happy to be back in their church, worshipping together. For the foreseeable future, that's the new normal for St. Mary's Parish, Prince George, B.C. and it works.
Kenya Mission – Fr. Cosmas Kithinji, OMI
STAYING AFLOAT AMID COVID 19: "ANYONE HAVE ANY SNICKERS OR CHEETOS SEEDS?"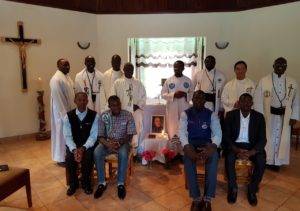 On April 16th I saw a post on social media which read; "We are thinking of planting a garden in case the food shortage gets worse. Anyone have any snickers or Cheetos seeds?" I could not help but laugh at this. This came at a time when we were really trying to make sure that our garden was producing, the vegetables we needed, to the maximum just in case we could not get grocery supply or the prices went up, owing to the lack of a clear picture of where the pandemic would lead us.
I saw this post slightly over a month after the first case had been confirmed in Kenya (March 12th 2020). Three days after this announcement of the first confirmed case, on March 15th 2020, the President gave the order that all the learning institutions were to be closed within the coming week to curb the spread of the Corona Virus. During this announcement the president also mentioned that two more cases had been confirmed within Nairobi.
This order and announcement of increased cases changed our life at the pre-novitiate. Since the confirmed cases were in Rongai, not far from where our pre-novices go to school, Consolata Institute of Philosophy, we decided to cancel their going to school, before the school had called off the physical classes. We did this because at that time our pre-novices were using the public transport and we felt using the public transport put them into great risk of getting the virus. We also decided to let our employees, the cook and grounds men, stay at home since they use public transport to come to work and those from nearby would be in contact with people who were using the public transport.
All this left us with cooking to do, grounds and garden to maintain, and online classes to attend, amidst the regular formation community program. This was not easy to get used to, schoolwork itself is usually a heavy enough load, adding the daily cooking for fifteen people, and grounds and garden maintenance made it heavier. The gardening and grounds work coincided with the long rain season, which meant a good production.
Two months down the line, we are still here as a 'cloistered' pre-novitiate community, save the occasional grocery run. Three of the four pre-novices finished the online classes towards the end of April, but the end of semester exams are still pending because of the technicalities of off-campus exams administration. The fourth one, who is doing orientation to Philosophy course is set to complete his classes in mid-June. The ones who have completed their philosophy are supposed to be on their holidays and pastoral experiences in our parishes, but since our parishes are closed they cannot go to the parishes, and since there is no movement in and out on Nairobi they cannot go for their home holidays either.
Luckily, food is still available at the market though the prices have gone up. Fortunately for us we have some vegetables, eggs, and meat from our little farm. We are also glad we have a spacious ground to walk around and play volleyball three times a week, when the restrictions of movement and the dusk to dawn curfew bites. We do not take this environment for granted, since we know the reality out there for people living in congested places is unpleasant. We also feel blessed to be able to have daily Masses, whereas even the neighboring convents, which we minister to, cannot have Masses.
Meanwhile, we ceaselessly pray for the world as it lives the effects of Covid 19, loss of jobs, lives, and family and community time. We also pray for the world, the governments and researchers, as it seeks to find a solution to this un-precedented predicament.
We are also praying and waiting with the rest of the Kenyans, as the number of confirmed cases continue to rise daily and as the government continues to put measures in place to curb the spread of the virus and to maintain the economy, for a breakthrough. The national figures now stand at 1,471 confirmed cases, 55 deaths and 408 recoveries. In the first week of June 2020, we expect the President to update the movement and curfew restrictions. The cessation of movement in three Covid 19 hotspot counties and two estates, the closure of 'non-essential' businesses, and the national wide dusk-to-dawn curfew, while being appreciated for helping to curb the spread of Covid 19, is being lamented for stifling the economies. These restrictions have affected many families which live on these businesses and on employments from the same businesses. Most of the people, especially in the cities and towns, depend on casual work whose pay ensures the next meal, health care, and rent. Besides the economic strain, regretfully domestic violence has also gone high.
Well, our Faith in God who never abandons His people, the measures being put in place, and the low number of mortalities in relation to the recoveries, and the low numbers of those in critical condition here in Kenya, gives us a reason to remain very hopeful.
Adding my Voice: Advocacy for a Better World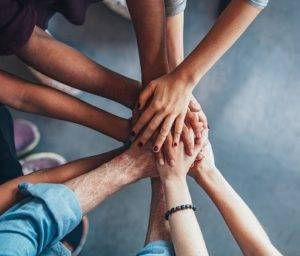 What would an ethical recovery look like?
By Joe Gunn
Times of great disruption in history have often birthed life-changing moments when once-cherished dreams have unfolded into new realities. Developing a just and 'green' recovery strategy could very well be the moral challenge of our age.
OTTAWA—Canadians are not accustomed to Googling the websites of their various houses of worship for scintillatingly brilliant advice on how to design vibrant economies. That might be as useful as asking the current denizen of the White House for clues on hairstyling.
But if faith communities are places where adherents go to have their moral and ethical batteries re-charged, what advice is currently being offering to a Canadian public under lockdown, slowly emerging into a future masked with uncertainty?
Lifting Our Spirit
In these uncertain times, we need to care not only for our physical health, but for our emotional and spiritual health as well.  We all need something to lift our spirits!  Each week, we will be presenting you with something you might find inspirational, comforting, thoughtful or even, perhaps, amusing!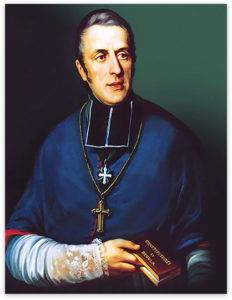 My Dear Children – Letter from St. Eugene
My dear children,
I, a man of the 19th century, want, by this letter, to reach you in your times of the 21st century, when you are going through a global health crisis. With my life experience, I would like to share this with you:
As a young priest in 1814 in Aix-en-Provence, my heart is bleeding today with you in front of so many anguished "poor people with many faces", so many isolated or carefree young people, so many rebellious prisoners. On this subject, do not forget that I contracted typhus from Austrian prisoners of war and that, I owe healing thanks to the incessant prayer of young people in front of the Statue of our Lady of Grace.
As Superior General of a missionary Congregation, my heart is bleeding today with you before this pandemic, which affects all continents: after Asia, now Europe, and already Latin America and Africa.
As Bishop, my heart is bleeding today with you in front of the disarray of the People of God who cannot come together and celebrate. However, in 1848 – in quite a different circumstance certainly – remember that I had exempted the Christians of Marseilles from Easter Mass to allow them to go to vote! You? You are lucky to have the Internet! So, including praying and celebrating, I repeat: "For new needs, Charity invents new means"!
As a Pastor too, I had to face the cholera epidemic of 1837 which ravaged our dear city of Marseilles. Being in the countryside at the time of the arrival of the plague, I immediately returned to the diocese to live these dark hours with the people of Marseilles, Les Marseillais. I remember a newspaper headline saying, "The future is in our hands." Certainly, this is true. For you today, it is in the hands of experienced health professionals, researchers, cashiers, police, authorities … But the future is primarily in the hands of God. So, my turn to tell you, "don't be afraid"; and with another message dear to my Oblate sons: "But pray my dear children, God will hear you in no time"; our Lord Jesus Christ, full of tenderness and mercy, lets himself be touched. He will not abandon you.
I share with you the grief and mourning of all those who have already lost a loved one, victim of this scourge. Myself, I was very hard hit by the death of my most faithful servant at the bishop's house during the cholera. Again, this loss made my heart bleed. At the end of the epidemic, I celebrated a solemn service at the cathedral for all the victims.
One more piece of advice: invent the means to take care, to show interest and to have concern for the families hit by this terrible epidemic, for families and isolated people, confined on their own. It is important that no one is forgotten.
Finally, remember that at the beginning of the epidemic of 1837, my first gesture was to go up to Our Lady at Notre Dame de la Garde, to celebrate Holy Mass there and to ask Our Good Mother to intercede for us with her divine Son. So, my dear children, today also turn to her, with the same confidence.
Charles Joseph Eugène +
WE WELCOME YOUR COMMENTS, REACTIONS AND STORIES!
Fr. Richard Beaudette – vicar1@omilacombe.ca
Isabelle Gigault – igigault@omilacombe.ca
Lucie Leduc – director@starofthenorth.ca
Joe Gunn – jgunn@omilacombe.ca
Sandra Prather – sandramprather@gmail.com