New Needs, New Means: OMI Lacombe Canada Responds
Oblates and Associates are responding across the country, creating new means to meet new needs of the time.  Here are a few stories about what's taking place across the Province.  Throughout these weeks, we hope our sharing helps us to maintain connection, bridge the distances, and inspire us.  We are in this together with the Spirit to guide the way.
This week we have stories from Taché and Brother Anthony Districts.
To submit your stories, please email Fr. Richard Beaudette at vicar1@omilacombe.ca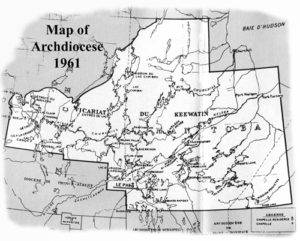 Taché District – Fr. Jim Fiori, OMI
The diocese of Keewatin Les-Pas, with its long history of Oblate missionaries, is dear to the Oblate heart. The log-standing relationship began in 1846 when Father Alexander Tache O.M.I. arrived at Ile-à-la-Crosse Saskatchewan. He built a small house and chapel there in 1847 and the Oblate presence grew from there. The Oblates were foundational in establishing the Church across the area and their presence continues today, albeit with far fewer numbers.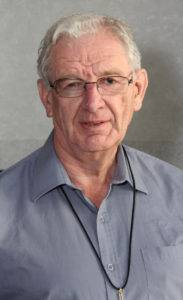 Father Jim Fiori O.M.I is one of the Oblates still serving in the diocese. As Vicar General and Chancellor, he lives at the cathedral, Our Lady of the Sacred Heart in The Pas MB, and assists Archbishop Murray Chatlain in ministering to a congregation spread over 430,000 square kilometers. It's range includes three provinces, Saskatchewan, Manitoba and a small corner of North-West Ontario and it is culturally rich and diverse, with Métis, First Nations of Cree, OjiCree, Dene and non-Natives all represented. With the vast geographic distances and the isolation of many of the communities, the challenges of the Covid-19 pandemic are multiple.
Most seriously perhaps, many of the Northern communities recognized the vulnerability of their populations and the lack of adequate medical resources in the community should the virus take hold. The response was to shut their communities down, quickly and completely. Travel between communities was banned which meant that pastors, who frequently serve more than one parish or mission, had to get creative. For some, that meant televising Masses in communities where they had their own television stations; in another community, they broadcast Mass and prayers over the local radio station.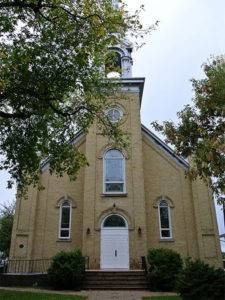 At Our Lady of the Sacred Heart Cathedral, Archbishop Chatlain began live-streaming Sunday Eucharist and sharing it on social media. A Wednesday Evening Rosary service was added and it includes members of the community who pray a decade, often in Cree or Dene. The Church has now officially opened for Sunday Masses, but it is a challenge, Father Jim says, to make sure everything is done correctly. Only twenty-five people are allowed to attend at one time, so the parish office staff take registrations for attending. For that reason, they will continue to live stream Masses for now.
Amidst his diocesan duties and helping at the parish office, Fr. Jim found time during the last weeks to turn to the archives, another of his responsibilities. 'I went through a lot of files," he remarks. He also found time for a few hobbies, like gardening and reading, good things to help pass the time when one is under lock-down. Undoubtedly, things are changing quickly, but life in the diocese continues!
Brother Anthony District – Associates – Dan and Joanne Friedt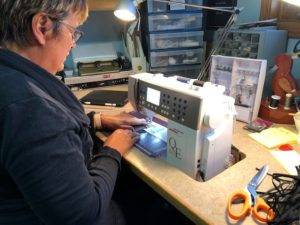 "Who ya gonna call?" In Brother Anthony District, if you are an Oblate or Associate in the greater Edmonton area, the answer often is Associates Dan or Joanne Friedt. These two long-time educators, retired a few years now, have, with the new needs presented by the Covid pandemic, taken on some new ministries. For them, their response to the shut-down has been, "How can we help?" and it has resulted in some surprising answers.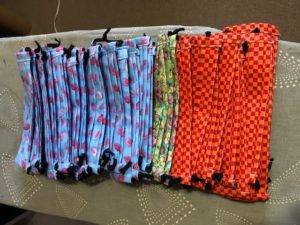 For Joanne, at the beginning and for weeks into the crisis, it meant that she was in her beloved sewing room. Discovering that there were multiple shelters and agencies all across Canada desperately in need of cloth masks, Joanne took up the challenge. Following the recommended pattern and using donated fabric mostly, she started sewing and has now donated over 150 masks to various places. She turns any remuneration offered to the Mustard Seed, so two places benefit!  While the initial need has subsided, Joanne can still be found sewing masks, giving them now to family and friends, including Oblates and Associates who need them.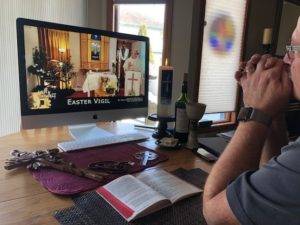 For Dan, his love for and expertise with computers has been a god-send to a population suddenly cast into a whole new world of ZOOM and live-streaming. While Oblates and friends have long-known of his willingness to assist with computer advice at any time, the pandemic has brought it to a whole new level. Tireless and always of good cheer, Dan is the 'tech guy' for whatever needs to be done. He's assisted an Oblate parish in live-streaming Masses and other liturgies, helped a retreat house offer their retreats on-line [Star of the North], and continues to assist numerous Oblates and Associates in navigating the intricacies of joining a ZOOM meeting.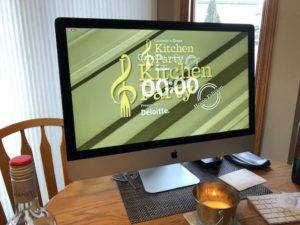 For both Dan and Joanne, maintaining relationships with Oblate and Associate friends is a priority. They meet regularly with their good friend Fr. Al Hubenig, sharing patio dinners with him as the weather allows. Joanne was a key helper with the parish community of Pickardville in arranging Fr. Al's recent 89th birthday drive-by party! Dan, as facilitator of the Gareth Place BOC, initiated monthly BOC meetings by ZOOM for the community, and then helped everyone get online. A weekly Games Night with some Associates and an Oblate also helps to ease the isolation of everyday. Dan participated in the music ministry at both St. Albert Parish and Sacred Heart occasionally and that was also a way to be connected, although, sadly, that has ceased for the present.
Both Dan and Joanne express appreciation for the role technology has played in helping people stay connected. They note how it has extended the outreach of the parish, for instance, with people from all over the world joining in on Sunday Masses. They recognize it as tool that is here to stay and hopefully, as we become more familiar with it, it will fade into the background and the connection will be the paramount thing. It's an unexpected gift from the pandemic, perhaps!
Adding my Voice: Advocacy for a Better World!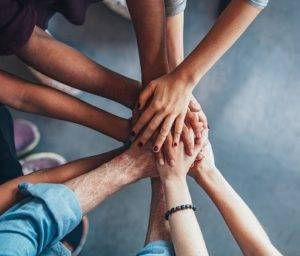 Global crises can shock human beings into new ways of being in the world – but are the results always good?
For example, after the Second World War, soldiers arrived home and helped reconstruct more just societies based on the benefits of the welfare state that we have become so used to today.
And you may remember exactly where you were when you first received news of the terrorist attacks in NYC on September 11, 2001. We then confronted the "Axis of Evil" by waging wars (that have yet to end) against those we assumed to possess "weapons of mass destruction." Thousands perished, and the world might not really seem any more secure.
How will Canada emerge from the COVID-19 pandemic?
On Thursday, June 25th at 1 pm EDT, the Galilee Retreat Centre is hosting an on-line conversation entitled "Catholic Principles for a Just Recovery."
How will we ensure the future economic cure does not become worse than the structural disease that left so many, so vulnerable? What are we willing to let go, in order to refuse to return to the previous "climate emergency"? When a vaccine is discovered, who deserves to be first in line? And will we be willing to share life-saving measures with those unable to pay in the global south? Will we erect new borders for undocumented migrants lining up to try to save the lives of their families? Will today's physical distancing morph into tomorrow's moral distancing from the vulnerable?
For more information, see Galilee Centre – Catholic principals for a just recovery a zoom conversation To sign up for this free Zoom event, send a note to info@galilee.com
"Dynamic distancing" we are told, is the next step for emerging from the crisis. A Gospel-based dynamic togetherness is surely a more desirable path forward.
Lifting Our Spirit
In these uncertain times, we need to care not only for our physical health, but for our emotional and spiritual health as well.  We all need something to lift our spirits!  Each week, we will be presenting you with something you might find inspirational, comforting, thoughtful or even, perhaps, amusing!
RESISTING RACISM ~ CELEBRATING ONENESS
Praise to You, God of the Universe!
Generously, You created all people in your image and likeness.
 Together with many other species,
we delight to express
your beauty and wisdom.
 Graciously, your Spirit energizes all of us to enjoy life in You,
living together in harmony,
while uniquely contributing to the common good.
 Forgive our bigotry, narrowness and violence.
Help us hear voices raised in pained protest –
with hope of transformation.
Awaken us to see You in peoples of all races and cultures,
and to honour rich diversity enlivening the church,
and our entire Earth community.
We pray in the name of Jesus,
who is One with all creation.  Amen.
 ~ Roma De Robertis, SCIC    (June 2020)
WE WELCOME YOUR COMMENTS, REACTIONS AND STORIES!
Fr. Richard Beaudette – vicar1@omilacombe.ca
Isabelle Gigault – igigault@omilacombe.ca
Lucie Leduc – director@starofthenorth.ca
Joe Gunn – jgunn@omilacombe.ca
Sandra Prather – sandramprather@gmail.com