New Needs, New Means: OMI Lacombe Canada Responds
Oblates and Associates are responding across the country, creating new means to meet new needs of the time.  Here are a few stories about what's taking place across the Province.  Throughout these weeks, we hope our sharing helps us to maintain connection, bridge the distances, and inspire us.  We are in this together with the Spirit to guide the way.
This week we have stories from Saskatchewan, Taché and Ontario Districts and the Kenya Mission.
To submit your stories, please email Fr. Richard Beaudette at vicar1@omilacombe.ca
Saskatchewan District
From his office at Queen's House Retreat Centre in Saskatoon, Fr. Bill Stang shared how things are going at St. Philip Neri Parish in Saskatoon in these isolation times.  He warmly mentioned Fr. Mike Dechant's pastoring saying, "Mike set out palms in the foyer for parishioners to take on Passion Sunday, and people dropped by to pick them up.  They were all taken!"  He then added, "He is using his time to call parishioners to check in with them, and the two parish nurses there, Debbie Bauche and Ethna Martin, are doing tremendous work reaching out to parishioners, ensuring people's needs are directed to the proper resources, and looked after."  The spirit of community in Saskatchewan is enduring with graces of patience, hope and looking out for each other.
Taché District
Br. Thomas Novak carries on working for the Archdiocese of Winnipeg as outreach worker for First Nations and Metis. "The Diocese has not laid anyone off yet," he says, and adds, "I've been staying at home and working from my phone reaching out to parishioners of St. Kateri parish to check in with them.  I only go out for the odd funeral here and there."  The Oblates support his unpaid, volunteer work with the Mexican farm migrant workers.   "This time of year, I usually help the Mexican workers with any issues once they arrive to do their work at greenhouses or on nearby farms.  This year, they've had difficulty getting visas as the government took some time to make up their mind about letting them come.  They are coming now, and they must quarantine for two weeks without pay before they can begin their work planting, weeding and eventually harvesting.  They are happy to be here.  I usually help plan liturgies in Spanish for them, but now we'll have to find another way to celebrate."  In his spare isolation time, Br. Thomas is revising and updating a Cree Hymnal he helped publish in 1998.
Ontario District
Ontario Associates Karen Ann McKinna, Brian Kerr and Colleen Kerr are each finding innovative ways to reach out even while staying in. Like many of us, they are in the 'higher risk group', and so part of the Covid-19 response is self-isolating.
That has meant many things, like giving up life-giving work or drastically modifying it. Colleen has had to quit as an elder care worker and Karen Ann has to stop her after-school math tutoring. However, both have found ways to continue reaching out. Colleen is connecting via phone and safe distancing visiting with several of their elderly, vulnerable friends, while Karen Ann is now volunteering her tutoring by phone and email. She has realized, in the process, it's not just about the math. The emotional support she is offering has been much appreciated.
It also has meant becoming creative in connecting with family, friends and others. Colleen decided several weeks ago to send handwritten letters to their four grandchildren. Two of the younger ones responded with their own letters & drawings, along with a request to keep the letters coming! Karen Ann checks in regularly by phone with several of her +90 year old friends, ensuring they are well and offering a listening ear. Through porch visits, phone calls, social media, and grocery and cooking drop offs, Colleen, Brian and Karen Ann carry on nurturing the human connections we all need.
The imposed slowing down of life has also allowed more time for self-reflection, prayer and spiritual reading. Whether it is on-line Masses, intercessory prayer, or even mini-online retreats with Fr. Ron Rolheiser, Colleen, Brian and Karen have found a variety of ways to feed their souls. There's time to listen to music [Karen Ann], bake bread [Colleen], and walk [Karen Ann, Colleen, Brian]. They are discovering the small pleasures of life as the true treasures of life.
Being present to others with a listening ear; reaching out with food or groceries; offering prayer and spiritual accompaniment: these are seemingly small acts. Yet they are ministries of kindness, compassion, and mercy, and they reveal the true Oblate spirit of community and solidarity.
Kenya

Pastoral experience during the pandemic (Kionyo Parish)
The Corona virus pandemic has affected the whole world in many ways. At the beginning of this year, Covid-19 was not a reality in Africa, till the end of February 2020, it was still far from Kenya and life was normal. The atmosphere started to change in March 2020, when few countries in Africa announced their first cases and few days later, Corona was in Nairobi, Kenya.
Life in general has changed and the usual routines have been interrupted by closure of businesses, churches, learning institutions and other big offices. The consequences of this change are also psychological, emotional, social and economic.
What is our experience in Kionyo? How do we cope with the situation, how does it affect our parishioners and our pastoral?
READ FULL ARTICLE – By Constant Ilombun, OMI
Adding my Voice: Advocacy for a Better World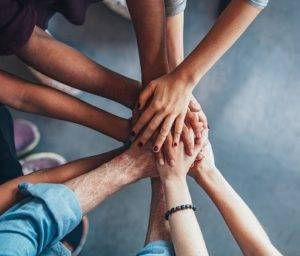 Do you know you can do something worthwhile to advance ecological justice, even in these times of the COVID-19 pandemic?
Last week, on April 22, 2020, the world celebrated the 50th anniversary of Earth Day! Even though there could not be any mass rallies to mark this occasion, Christians did join many environmental movements on this landmark occasion.
For Earth Day, OMI Lacombe Canada signed onto a faith-based, ecumenical initiative for climate justice. Stay tuned to see how this effort will push the climate emergency agenda, along with our colleagues in Notre Dame du Cap Province, and many other members of the Canadian Religious Conference!
Another of the signatory groups, Development and Peace – Caritas Canada, has requested that we each join their Intergenerational Pledge for Our Common Home. You are invited to reflect on how you might "green" your own behaviours and consumer habits – but also add ideas on how you would advocate with government for necessary policy change. As Dianne Saxe, Ontario's former Commissioner of the Environment says, "Individual action is a great place to start – and a terrible place to stop!"
Share your views on how to best support action to respect the environment today at: https://www.devp.org/en/campaign/forourcommonhome/pledge
Lifting Our Spirit
In these uncertain times, we need to care not only for our physical health, but for our emotional and spiritual health as well.  We all need something to lift our spirits!  Each week, we will be presenting you with something you might find inspirational, comforting, thoughtful or even, perhaps, amusing!
We Rise Again –  Women Physicians sing out!
Consecration to Mary, Mother of the Church in time of pandemic
Resources available on CCCB website.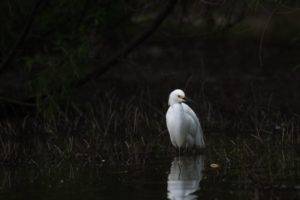 The Peace of Wild Things
by Wendell Berry
From The Selected Poems of Wendell Berry. Counterpoint, 1999.
When despair for the world grows in me
and I wake in the night at the least sound
in fear of what my life and my children's lives may be,
I go and lie down where the wood drake
rests in his beauty on the water, and the great heron feeds.
I come into the peace of wild things
who do not tax their lives with forethought of grief. I come into the presence of still water.
And I feel above me the day-blind stars
waiting with their light. For a time
I rest in the grace of the world, and am free.
Read the titles from top left onwards…arranged by a librarian. Simply brilliant!!!