Pope Francis as a penitential pilgrim at Lac Ste. Anne
"This lake, with all its diversity, thus became the site of an unprecedented proclamation of fraternity; not a revolution bringing death and injury in its wake, but a revolution of love. Here, on the shores of this lake, the sound of drums, spanning the centuries and uniting different peoples, brings us back to that time. It reminds us that fraternity is genuine if it unites those who are far apart, that the message of unity that heaven sends down to earth does not fear differences, but invites us to fellowship, a communion of differences, in order to start afresh together, because we are all pilgrims on a journey."
"In this blessed place, where harmony and peace reign, we present to you the disharmony of our experiences, the terrible effects of colonization, the indelible pain of so many families, grandparents and children. Lord, help us to be healed of our wounds. We know, Lord, that this requires effort, care and concrete actions on our part; but we also know that we cannot do this alone. We rely on you and on the intercession of your mother and your grandmother."
"Dear indigenous brothers and sisters, I have come here as a pilgrim also to say to you how precious you are to me and to the Church. I want the Church to be intertwined among us, as tightly woven as the threads of the colored bands that many of you wear. May the Lord help us to move forward in the healing process, towards an ever more healthy and renewed future." Pope Francis – Lac Ste. Anne Pilgrimage – July 26, 2022
Full text available here: VATICAN Dicastero per la Comunicazione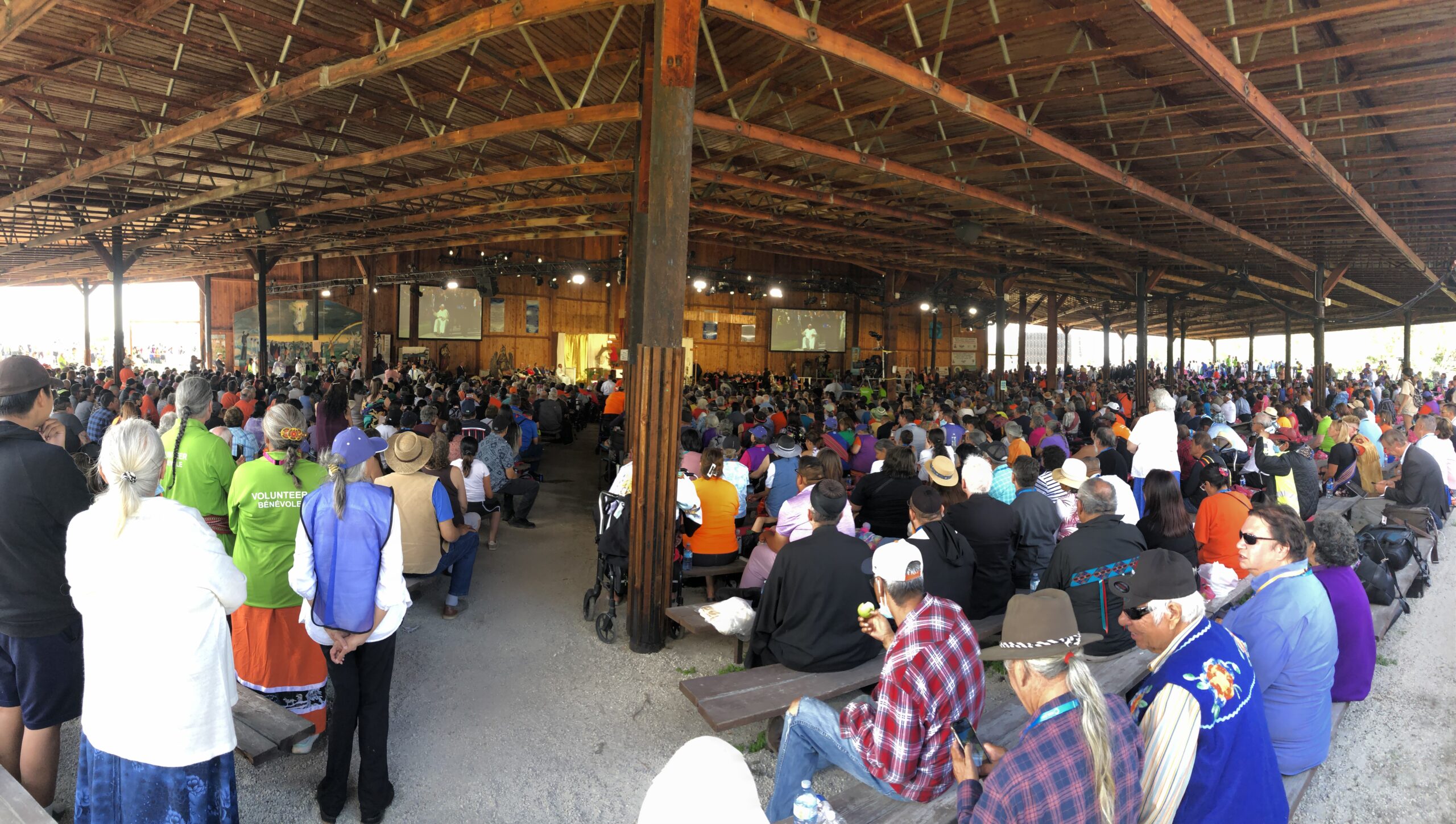 On the wake of Pope Francis' pilgrimage at Lac Ste. Anne we recall the history: at the same place on July 24, 1991 the Oblate Conference of Canada voiced an apology to the Native Peoples. Please read here: OBLATE APOLOGY 1991
We continue #WalkingTogether toward truth, healing and reconciliation.
We are further committed to ensuring that the history of the residential schools contained in our records is available to survivors, the families of the children who did not return home from the schools, and Indigenous communities.
Last year we've created a new page on our site containing a variety of information and articles related to Indigenous issues and the work toward truth and reconciliation. TRUTH AND RECONCILIATION
There was a number of Oblates present yesterday, including Fr. Ken Thorson OMI our provincial and Fr. Warren Brown OMI general councillor, #WalkingTogether Lac Ste. Anne pilgrimage with Pope Francis and the Indigenous People
Some images from yesterday's Lac Ste. Anne Pilgrimage #WalkingTogether Drummers are drumming a flag song as flags are raised to open pilgrimage. Four women in orange shirts are pilgrims from Sandy Bay SK.