Thirteen Oblate Associates make their First Commitment at Sacred Heart Church of the First Peoples
"For everything there is a season, and a time for every matter under heaven…" (Eccl 3:1)
 These beautiful words from the Book of Ecclesiastes sum up for me the amazing celebration of thirteen new Oblate Associates, who made their first commitment on Sunday, June 6, 2022 at Sacred Heart Church of the First Peoples.  It was fitting, and perhaps not coincidental, that this day was the Feast of Pentecost.  This humble gathering in the gymnasium at Sacred Heart School brought together different nations, cultures, and languages to pray and worship together to the Creator.  It is a new and exciting beginning.  After nearly three years of formation, much of which took place during this unprecedented pandemic, the time was right to move forward.  Many people participated in the formation of these new Oblate Associates, led primarily by Fr. Susai Jesu and Fr. Mark Blom but also many associates, too numerous to mention who mentored, gave witness, and assisted in their formation.  It takes a village, as the saying goes.  On the Feast of Pentecost, we paused to celebrate and give thanks for the first commitment made by these thirteen people, who now proudly wear their Oblate crosses around their necks.  Their formation will continue, new people will join, and the journey will go on.  First, we pause, with gratitude and thanksgiving for St. Eugene de Mazenod and the charism that we hold dear, for all Oblates and Oblate Associates and especially for our new Oblate Associates who have joined this wonderful and sacred circle that faces outward in love and service.
By Debbie Doornbos, District Animator, Brother Anthony District
"Receive the cross of Christ"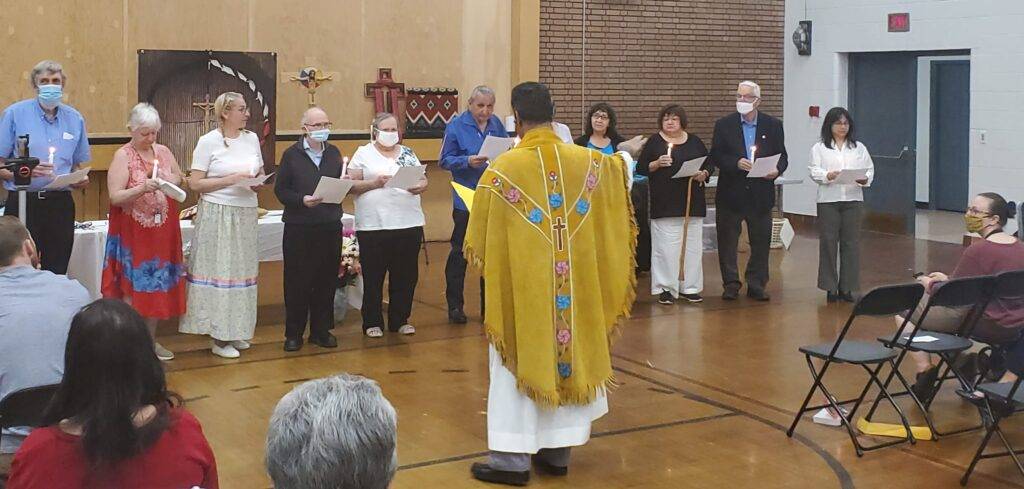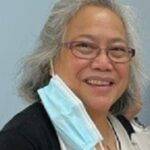 Vernie Libran – The moment the cross was put on me by Sandy, I felt like I suddenly woke up to the reality of what this cross means. When Sandy said RECEIVE THE CROSS OF CHRIST as she put the necklace with the Oblate cross on me, I cried, realizing that I am receiving not just the necklace with the Oblate cross but with it also comes the commitment, love, and responsibility to bear and share in the life of Christ: His sufferings, His sacrifices, His unconditional love to all of us especially the poor and the marginalized. I felt so blessed for this opportunity to share and experience the Cross of Christ. Now, I am so cautious of everything I do and say because I only desire to follow St Eugene de Mazenod, particularly his last words just before he died: "Charity…charity…charity". I just hope and pray that I will be worthy of wearing this Oblate Cross.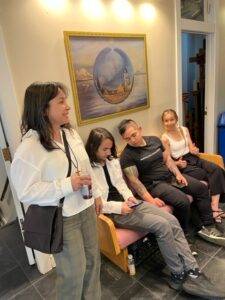 Michelle Briones – This past Pentecost Sunday was different from the 50 Pentecost Sundays I have celebrated so far. I was invited to learn about the lay ministry of the Oblates of Mary Immaculate (OMI) and began formation in 2019. We were in the midst of our formation when the pandemic hit and all formation was disrupted for the two years of uncertainty and lockdowns. Reflecting on the two short years that passed leading up to Pentecost Sunday taking the first steps to becoming a lay member of the OMI I am held at awe in the face of changes brought on by the promptings of a virus. Something so small to bring about great change even to the most powerful people in the world. I understand that in the small things I do in my community when joined with the small things others do we can affect change and bring the image of Jesus to those we serve; shining the Light of Christ in the dark places of the human soul. Called to service under the banner of the OMI is an honor and a blessing I will cherish.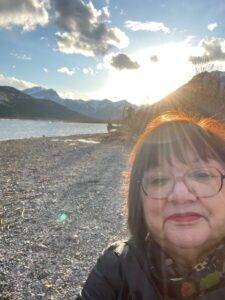 Lil Cook – I feel very humbled and honoured to be a part of the Oblates Association at Sacred Heart Church of the First Peoples. On June 5, 2022, I made my one-year commitment as an Oblate Associate. My purpose is primarily to serve the spiritually needy and deprived.
Fernie Marty – It was a long wait. It was supposed to be yearlong lead up, but covid delayed it over three years. It got to the point where I wondered if it would happen and thought that covid didn't seem like good enough reason to delay it.
When the day finally came, everything worked against me. I dropped my glasses, popped my lenses, and couldn't see. Everything that could happen to stop me from going. I wanted to do it. I said I would go there. After doing the whole thing and seeing everyone there it made me feel good, it made me feel accomplished.
It's unfortunate that none my family could be there to see it, but I have my Sacred Heart family. That's how I think of our church, as a family. Now, I'm wondering where being an Oblate Associate will take me. It's a mystery, there's a sense of excitement in moving forward.
It was a powerful experience for me as an individual and reminded me of doing my Cursillo. It was an important thing to accomplish. I see it as being an example to others here at Sacred Heart. They can accomplish this too – I am able to act as a witness. The power of example, being an Elder at Sacred Heart is not to be underestimated. The Oblate Associates, it's not only for seniors, it's for anybody.
I'm happy and proud that I am Oblate Associate participating in the Oblate Charism in many ways.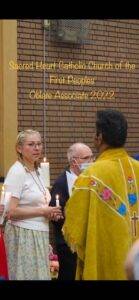 Rhonda Jackson – For the past three years a group of 13 Sacred Heart parishioners had the opportunity to understand the mission of Oblate Priesthood and its patriarch St. Eugene and what it meant to be an Oblate Associate. During this time, a bond of togetherness was formed and on Sunday, June 5, 2022 we made our commitment as a new family —a vow towards serving, helping, giving and loving to and for the poor, the needy and homeless. As a new Oblate Associate, I thank God for the new opportunities, the learning experiences and for the continued spiritual growth.  This is an exciting journey and I humbled and honoured to have received the cross as a symbol of love. The same love we must give to others.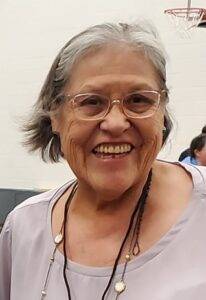 Yvonne Cardinal – We spent two and half years taking classes. I had recently started coming back to church here. So I tried this course. I'm thankful to father, thankful he got me into this program. I sometimes wonder if I'm the right person, I ask myself but it's helped me with everyday crises, the struggles we go through. I learned a lot from the other people who took the course.
My daughter became sick some time ago – that's when I starting thinking: you've got to pray for yourself. I was in Calgary, missing home and thought about what I've learned from the Oblates. That's where my life turned around. You need something in your life to help others. To support them. I've worked in different volunteer work with homeless – one of my strong things I did in my years before when I was volunteering back home. It's not hard work – it's something you need to do. You're there for the people.
I lived in Edmonton years before and my kids received sacraments here. This is a home for me, Sacred Heart is my home. Getting my children and grandchildren back – just to go and visit the church once in awhile. They're not church people – it bothers me. That's where it's at for them. They know I've come a long way – I've told them about receiving a cross from the oblates and explained what it's about.
I'd like to do more volunteer work here. I'd like to come here and learn more about helping others. It's a learning experience. I don't need to go far away to help others, there's lots of need here. I feel sorry for them. There's so much in need. I never thought it was that bad years ago, but now it seems like there are more and more, especially young people, who are suffering and in need.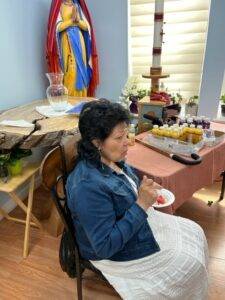 Cecilia Nepoose – Encounter with St. Eugene De Mazenod
It was a very touching moment for me. I encountered St. Eugene during one of our Cursillos in Maskwacis in Nov '95 with two other ladies. I saw him and heard him singing, "Silent Night". He inspired me with his charism, and I was encouraged to walk in his footsteps. That made it so special for me in receiving the Cross. I was thanking the Holy Spirit for blessing me with the gift of voice and gift of healing. I got emotional, but I knew they were tears of joy. I did the novena to the Holy Spirit.
Bob McKeon – On Pentecost Sunday I made a public commitment to live and serve my Christian faith as an Oblate Associate.
It was important that a group of us from Sacred Heart journeyed together building community over the past two years preparing for this special day.  Each of us made a personal  faith commitment  in words spoken together.  We can support and challenge each other to live out this commitment faithfully as Oblate Associates.
It was important to me that this event took place at Sacred Heart Parish in the McCauley neighbourbood, my home parish and neighbourhood where I have lived and worked for the past 45 years   This parish and neighbourhood   are special places where the Oblate Charism, rooted in the life and teaching of the founder St. Eugene de Mazenod, can truly come to life.