Who is responsible for Vocations?
"Jesus never ceases to call people to follow him and to proclaim the Kingdom" (C. 52).
Considering that OMI Lacombe Canada (not counting our Kenyan Missions) haven't had an ordination to the priesthood, nor perpetual vows in quite a few years, and with no one currently in formation, the reality of lack of vocations brings understandable concerns. We have to choose to give into despair preparing the province's "funeral", or embrace hope against hope that God will provide. "We are convinced that Christ always provides the Church with the ministers that are necessary. It is up to us to discover effective ways of presenting our Oblate vocation to people today." (General Norms for Oblate Formation No. 78)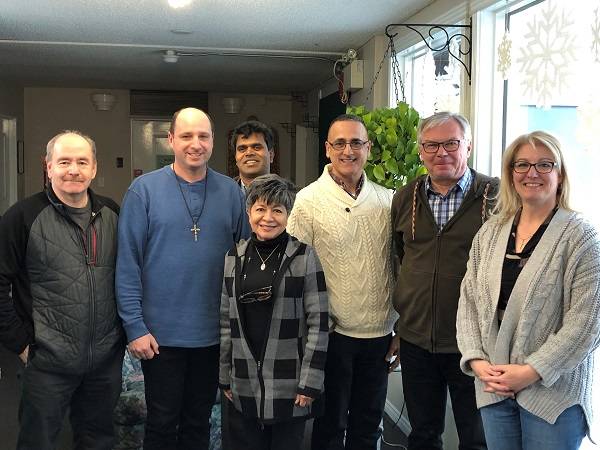 A few months ago, I was asked to chair the Vocation Taskforce to discern and strategize our vocation ministry within the Province. It was an enriching and inspiring experience, considering that the members of the team came from many varied experiences of life and ministry, sharing and being passionate about the Oblate charism. There was myself, co-pastor of an inner-city parish and coordinator of the Mission With Youth; Rusty Gardiner, an Oblate brother and prison chaplain; Susai Jesu, pastor of a First Nations parish; Serena Shaw, an Oblate Associate; Andrzej Stendzina, pastor and district superior; Richard Hall, U.S. Province Vocation Director and his assistant Irma Noyola.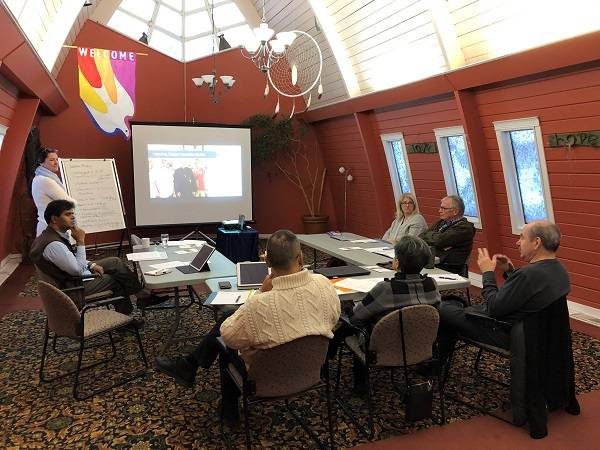 After a number of online meetings with insightful reflections, we foresaw the value of getting together for a day of discernment to finalize our Vocation Ministry proposal for the Provincial Council. On a cold day in January, Edmonton welcomed us with a snow blizzard and freezing temperatures, which was quite "exciting" for our Texan taskforce members. Lucie Leduc, director of the Star of the North Retreat Centre, facilitated our meeting and led us into formulating very concrete suggestions. It was a productive day, well worth traveling across the country.
Over all, we came to realization that vocation ministry cannot be expected solely from the Vocation Director(s). It's the responsibility of every Oblate and those who share the Oblate charism, especially in the cultural context. In today's world the way of life is being seen as a "career" rather than a vocation, an answer to God's calling and purpose of life. It's our responsibility to foster and create a culture of vocation in each one's respective ministries, families and communities. "The vocation director or team works in close collaboration with the other Oblates in the Province, coordinating their vocation efforts. In fact, one of the principal tasks of the vocation coordinators is to foster the active involvement of every Oblate in this ministry." (General Norms for Oblate formation No. 94)
According to our Oblate Constitutions there are three fundamental ways of exercising the vocation ministry (General Norms for Oblate formation No. 84-86):
"The first way is the joy and generosity of our lives. We are constantly called to give the witness of a life dedicated to the mission and shared with each other as brothers. In spite of its difficulties, such a life generates and manifests the deep joy that pervades our being. It is in fact, this joy in our commitment and in our service to God's people that is of prime importance.
The second way consists in making known the needs of the Church and the world and how our Congregation strives to respond to them. Our Founder perceived the needs of the Church in his time and responded to them, inviting others to join him in his mission. His example is the pattern for our own approach and efforts, as we invite others to join us in responding to the Church's needs today. The clearest invitation we give is through our life and our apostolate that is unmistakably "Oblate".
The third way of exercising the vocation ministry is to pray as Jesus requested (Matthew 9: 38). Since a vocation to the priesthood and to the religious life is essentially a gift from God, we must ask for it in prayer and as men of prayer, both in our contemplation and in our intercessions."
So, as we all are concerned about the vocations within our Province, these are some starting points for the renewal: personal witness to the Oblate life and mission, knowing and responding to the needs of the Church, and contemplative and intercessional prayer. A detailed plan will be presented at the next Provincial Council meeting in February for discussion and action. Stay tuned!
By Jarek Pachocki, OMI – OMI Lacombe Canada – Vocation Taskforce (Chair)