Whoever Gives to the Poor Will Lack Nothing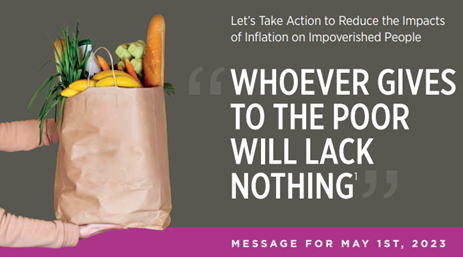 Twenty years ago, the Québec National Assembly unanimously adopted the Act to combat poverty and social exclusion. Today, Québec society is still marked by significant socio-economic inequalities. These inequalities have even increased since the law came into force in March 2003.

The Church of God in Québec took part in many ways in the popular movement that led to the adoption of this historic law. Today we are called upon to raise awareness and remind the government and civil society the importance to ensure that this law is applied in a more generous and inclusive manner. Over time, it seems that it is not so much poverty and social exclusion that have disappeared from our collective horizon, but rather the very idea of a possibility and a will to eliminate them! In solidarity
with community organizations that fight for and with impoverished people, let us rekindle the thirst for social justice that lies at the root of this project to eliminate poverty, so that it may truly become our project for society: "let justice roll down like water; and righteousness like an ever-flowing stream."

This commandment requires not only direct assistance to those in need (charity in the ordinary sense of the word), but also ensuring that laws and social structures (such as those governing debt, for example, including the terms of debt forgiveness) have the effect of increasing justice in our society. Unless this demanding call is heeded, "there will never cease to be some in need on the earth ." This pragmatic observation does not mean that poverty should not be fought. On the contrary: it rather establishes the duty to help the poor and the unfortunate, both through direct aid and through solidarity aimed at social change.
When Jesus takes up this biblical word in Bethany, affirming that "you always have the poor with you", he is updating this commandment of solidarity. With Pope Francis, let us understand this Gospel passage as a reminder of the duty to give, but also and above all as a call to be close to impoverished people, as Christ did, and therefore to always include them among us, to be and walk with them, in order to bring about a just and fraternal society, a prefiguration of the Kingdom of God. Impoverished people evangelize us because by going to meet them, we also meet Jesus Christ, a prelude to a profound conversion of our being and our action10. This is confirmed by the testimonies of Christians who, in the name of their faith, have committed themselves to solidarity with impoverished people, with a view to systemic change, whether in their work, in a living environment or in the context of a broader social movement.

Rising prices are hitting hardest, and most significantly, families and single people who are already in difficult socio-economic situations, including members of Indigenous communities and workers with precarious migratory status, in all regions of the province. The effects of the Covid-19 pandemic and the forms of economic recovery that were put forward have also made women, and more specifically mothers, more vulnerable to inflation13. In this context where it is becoming increasingly
expensive to find housing, food, clothing and transportation, the number of requests for assistance from food banks has jumped by 33% since 2019 in Canada.
In response, the Québec government provided $6 million in emergency assistance to food banks in December 2022. While such one-time assistance is necessary, it is not sufficient to fundamentally transform the economic system that perpetuates poverty and social exclusion. Policies that focus on the differential effects of inflation on the most vulnerable must be considered. In this sense, we support, with this message, the solidarity campaign for the expansion of access to the Quebec Basic Income program, which came into effect on January 1st, 2023. All people on social assistance should have access to it.
Christians of all ages and backgrounds are invited to read, meditate and discuss this text, alone and in groups, and then to redouble their efforts to work for and with those in need, for "Where the poor are concerned, it is not talk that matters; what matters is rolling up our sleeves and putting our faith into practice through a direct involvement, one that cannot be delegated."